Scholar-Athlete Society established at college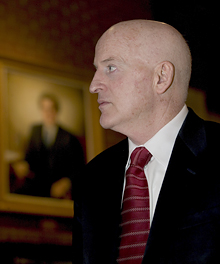 The new Bates Scholar-Athlete Society "makes clear our commitment to the scholar-athlete ideal," said Bates alumnus and trustee Dan Doyle '72, who is founder and executive director of the Institute for International Sport, in Kingston, R.I. "Bates is an example of a college that effectively combines academic rigor with a highly respected athletic program."
The society will include seniors nominated by their coaches who have compiled a 3.5 grade point average or have received a special nomination from faculty and staff for distinguished academic achievement in their junior and senior years. To be eligible for induction, student-athletes must participate in a varsity sport for at least three years. The society is designed to honor about 25 student-athletes each year of the roughly 175 varsity athletes that graduate.
"The Bates Scholar-Athlete Society honors dedication to excellence in scholarship and sportsmanship," said Bates President Elaine Tuttle Hansen. "It celebrates the ways in which athletics fits into the overall collegiate experience."
Suzanne Coffey, Bates athletic director and past chair of the NCAA Division III Management Council, said that Bates student-athletes "will know from their first days on campus that induction into the Scholar-Athlete Society is a goal whose achievement is modeled by generations of outstanding students. By dedicating themselves intensively to both academic and athletic pursuits, students at Bates set a standard for each other and for our wider academic and athletic communities. The academy is wrestling with the proper role for intercollegiate athletics programs within institutional missions. In creating the Scholar-Athlete Society, Bates is presenting to our students (and to the academy) a clear statement about the expectation for excellence in the classroom and achievement on the playing field."
"Athletics certainly should not dominate," Coffey said, "but it absolutely is part of the mission of our academic institutions. It should be considered in the same context as classroom learning, service-learning and study abroad." Doyle added: "We know the special bonds that form in the classrooms, residence halls and playing fields at this time in young lives. We hope our society provides a model that other colleges might find useful." A gift from Doyle to the College will support the program, annual awards dinner and newsletter.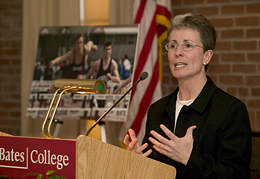 Coffey stressed that the society is "more than a one-time event. We are creating a network, a continuous loop of expectation. Society members will in turn inspire undergraduates to want to be part of this now and as they climb professionally in life."
As well as honoring undergraduates as they graduate, alumni who distinguish themselves as scholars and athletes and subsequently in their careers will also be inducted at annual ceremonies. Also honored will be one or more faculty members or former Bates coaches who have fostered the scholar-athlete ideal.
"It's not about playing time but the commitment and dedication one puts into both academics and athletics; it's the aggregate hours one spends on the practice fields and in the library that accentuates his or her unique talent and drive to succeed," Doyle said. "I find one of the most admirable groups of young people in America to be Division III athletes who come to practice every day, work hard, support the team and yet are not rewarded with playing time. I have known many successful people who fall into that category. The Scholar-Athlete Society will include stars and substitutes who share a common commitment to superior effort in the classroom and on the playing fields."
The inaugural induction ceremony will take place May 28, during Bates Commencement weekend. The keynote speaker for Bates' first induction ceremony will be Donald "Dee" Rowe, considered the "father" of the University of Connecticut basketball program. Rowe was head coach at UConn 1969-77 and still works as a special adviser. Doyle said that years ago, Rowe was his high school coach, and his great inspiration for the way athletics brings together for common purpose athletes of very different backgrounds. Doyle said that Rowe, who is "76 years young" is considered "the best speaker in our field."
Bates is uncommon in that nearly two-thirds of its students participate in 30 varsity and 12 club sports. Bates is a charter member of the New England Small College Athletic Conference (NESCAC), and its teams compete with fellow members Amherst, Bowdoin, Colby, Connecticut College, Hamilton, Middlebury, Trinity, Tufts, Wesleyan and Williams, as well as with teams from other colleges and universities.
The Scholar-Athlete Society complements the Milton L. Lindholm Scholar Athlete Awards, which have been given annually since 1976 to the senior male and female athletes with the highest academic averages. The awards honor Milton L. Lindholm, Class of 1935, who served as Bates dean of admissions for 32 years.
View Comments