Godsey wins national title in hammer throw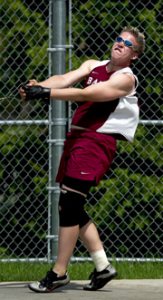 Kelly Godsey (Parker, Colo.) was a one-Bobcat show at the NCAA Division III Track and Field Championships, as her first-place finish in the hammer throw and second-place finishes in the shot put and discus tallied all 26 of Bates' points, giving the Bobcat team eighth place at the meet, hosted by Wartburg College.
In hammer throw, Godsey was as dominant as she's been all season, beating the rest of the competition by more than 10 feet. Her winning throw of 195-feet, 4-inches, set a Wartburg stadium record and a new NCAA Division III championship record.
View Comments