Keigwin + Company premieres at Bates Dance Festival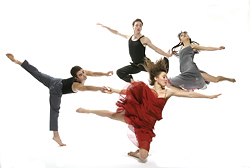 Keigwin + Company kicks off the five-week 2005 Bates Dance Festival performance series with a dazzling program of Maine premieres. Recently hailed as the "Best of 2004" by The New York Times, this hot, young troupe of formidable dancers performs works exploring contemporary life and pop culture with choreographic ingenuity and range. The festival presents Keigwin + Co. at 8 p.m. Saturday, July 16, in Schaeffer Theatre, College Street, Bates College. Tickets are $15/$10 (students and seniors) and may be purchased by calling 207-786-6161 after July 9. (Please note that this performance contains intimate scenes not appropriate for young children.)
The company will present the acclaimed four-part Mattress Suite, set to music by Cecilia Bartoli, in which a bride and groom cope with wedding night jitters and a marriage that, perhaps, should not be. The program also includes Natural Selection, a tumultuous work for five knockout dancers seemingly gripped by some exhilarating force of nature.
In Urban Birds, three scrappy characters give each other a "wing" into soaring leaps and lifts that aspire to flight. The program concludes with Female Portraits, a wry look at female angst and power set to music by Bjork and Pat Benatar.
"Keigwin is on his way," writes dance critic Linda Belans, who calls his dancers "witty, serious, campy, improvisational, bold and wildly wonderful. Using an incredible sense of wit, Keigwin's work is an attempt to both tease and investigate our identity in the context of contemporary pop culture."
Keigwin has choreographed and performed for Broadway, Off-Broadway, burlesque showcases and for numerous dance companies. His choreography has been presented at prestigious festivals and venues around New York and across the country. Keigwin was the associate choreographer for the Radio City Rockette production Carnivale, the Disney Musical Workshop When You Wish and the Off-Broadway musical The Wild Party. His recent evening-length concert at New York's Symphony Space radiated energy and garnered numerous rave reviews.
In addition to main stage performances, the festival offers a selection of free and low-cost events. Complete information is available at the website: https://www.bates.edu/dancefest
View Comments