Bates Dance Festival, Lakeside Concerts offer season finales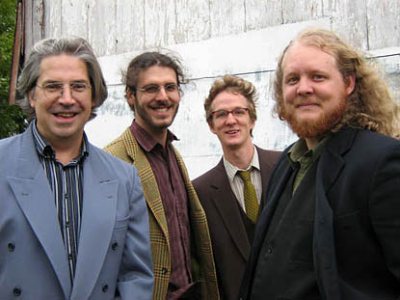 The Bates Dance Festival and the Bates College Midsummer Lakeside Concert Series end their seasons in high style this weekend, starting Thursday, Aug. 6, with the first of two "Different Voices" dance festival performances and a concert by Réveillons!, a Québécois folk band.
"Different Voices," a diverse program of new works by international and emerging choreographers, takes place at 8 p.m. Thursday and Friday, Aug. 6 and 7, in Schaeffer Theatre, 305 College St. Tickets are $20 for the general public and $12 for students and seniors, and can be purchased by calling 207-786-6161.
Réveillons!, known for its modern take on traditional French-Canadian music, closes the 2009 Bates College Midsummer Lakeside Concert Series at 6 p.m. Aug. 6 in the Florence Keigwin Amphitheater at the college's Lake Andrews.
Sponsored by the Harward Center for Community Partnerships at Bates and the Bingham Betterment Fund, Lakeside concerts are open to the public at no cost. Picnics are encouraged, as is bringing lawn chairs or blankets. For more information, please call 207-786-6400.
Aligning themselves with "the current universal . . . longing to 'return to our roots,' " Réveillons! is influenced by the Québécois tradition. The group hails from Montreal and features David Berthiaume on vocals, jaw harp and concertina, Marc Maziade on guitar, tenor banjo and vocals, Richard Forest on fiddle and Jean-Francois Berthiaume as the band's caller.
Réveillons! is French for "Wake up!" Since forming in 1996, Réveillons! has played reels, jigs, French songs and step dances at major festivals in Quebec and cities around the U.S. and Canada. Learn more.
Choreographers introducing dances in the "Different Voices" programs include Opiyo Okach (Kenya), Qudus Onikeku (Nigeria), Jennifer Archibald, Kyle Abraham and Adele Myers.
Concluding this season's dance festival events are two more performances. "Young Choreographers/New Works," an informal, adjudicated showing of more than 20 new works by talented festival students from across the United States, takes place at 1 p.m. Saturday, Aug. 8, in Schaeffer Theatre. Admission is free.
Also Saturday, at 7:30 p.m. in Alumni Gym, 130 Central Ave., is the "Festival Finale." Festival participants perform modern, Caribbean and hip hop works by Jennifer Archibald, Tania Isaac, Robert Battle, Mark Dendy and Bebe Miller, along with a new work by Youth Arts Program participants. Admission is $6.
View Comments