Five alumni elected to Bates Board of Trustees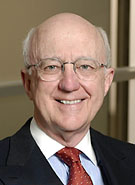 President Elaine Tuttle Hansen has announced five appointments to the Bates College Board of Trustees: Robert E. Burke of Boston, Mass.; Marjorie Northrop Friedman of Dallas, Texas; Jennifer L.Guckel of Charlestown, Mass.; Dana Petersen Moore of Baltimore, Md.; and Quoc K. Tran of Omaha, Neb.
Burke is executive vice president and chief operating officer of Boston Properties Inc., one of the nation's largest real estate investment trusts listed on the New York Stock Exchange. Prior to his appointment to this position, in 1998, he served 12 years as senior vice president and co-manager of the trust's office in Washington, D.C., where he started his career with Boston Properties in 1979.
Previously, Burke spent more than seven years with the Kennedy Library Corp., where he directed the development of the John Fitzgerald Kennedy Presidential Library and Museum. He has also held engineering and management positions with General Electric, SCM Corp. and Harvard University. Burke is a 1959 graduate of Bates' dual degree program: He spent three years at Bates and two years at Rensselaer Polytechnic Institute, earning bachelor's degrees in science and civil engineering, respectively.
Friedman is a 1995 honors graduate of Bates who majored in geology. She earned her law degree from Vermont Law School in 1999 and was an attorney at Holland & Knight in New York City until the birth of her first child, in 2001. As a Bates alumna, Friedman chaired her 10th Reunion Gift Committee and volunteers for Alumni-in-Admissions.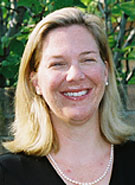 Friedman and her husband, Peter Friedman of the Bates class of 1992, were members of the Bates College New York Council until moving to Dallas. They are committee members of The Campaign for Bates, which has a fund-raising goal of $120 million, and co-chairs of the Mount David Society, an organization of annual donors who put the college first in their philanthropy. In October 2004, the Friedmans received the Distinguished Young Alumni Award, presented for exceptional volunteer service to Bates and for career distinction to people who graduated 15 or fewer years ago.
Guckel, a 1988 Bates graduate who graduated summa cum laude with a major in economics, is a managing partner in the consulting firm Spencer and Bean LLC. Previously she served as chief operating officer for Sentient Jet, a private jet service, and for Circles Inc., a firm that provides life-management services that major corporations extend to their employees. She was also an operations executive for Einstein Bros. Bagels.
After Bates, Guckel earned a master's degree in business from Stanford University. She is active in Bates alumni affairs as a career services volunteer, a member of the Alumni Council, a subcommittee co-chair for The Campaign for Bates and chair of the Bates Boston Business Networking group.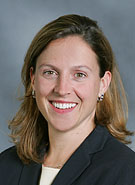 Moore, a 1979 Bates graduate who majored in English, is a partner in the Baltimore law firm of Whiteford, Taylor & Preston. She practices in the areas of product liability, asbestos personal injury litigation and general corporate defense. She received her J.D. degree in 1982 from Washington and Lee University.
Moore was named one of "Maryland's Top 100 Women" by The Daily Record in 1997 and 2000, and this year was named to that publication's "Circle of Excellence." She served as president of the Baltimore-based Monumental City Bar Association and has been honored by the Alliance of Black Women Attorneys and the National Bar Association. She has served on the Alumni Board of Washington and Lee University School of Law, as well as the Board of Visitors for the University of Maryland School of Law. In Bates affairs, Moore has served as class president and an Alumni-in-Admissions volunteer, and is a member of the Alumni Council and the College Key, an honorary service society.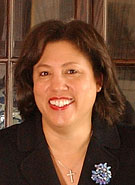 Tran, a 1995 Bates graduate who majored in rhetoric, is an executive at the investment firm Wallace Weitz & Co., Omaha. Previously he worked as an analyst for Northwest Airlines and for Zurich Kemper Investments, where he was prominently involved in launching and managing the Kemper Aggressive Growth Fund. He has also worked at Goldman Sachs Group.
At Bates, Tran was a nationally ranked debater with his Brooks Quimby Debate Society teammate Chris Tiné. He was nationally ranked among the top five in American Parliamentary Debate and competed in championships in the United States, England and Australia. He received a master's degree in business from the University of Chicago in 1999. As a Bates alumnus, he has been active in alumni affairs and fund raising, and as an admissions and career services volunteer.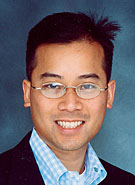 The new Bates trustees will serve five-year terms. Guckel and Tran were nominated by the Bates Alumni Association and confirmed by the trustees. Burke, Friedman and Moore were elected by the Bates College Board of Trustees. Bates trustees serve a maximum of two terms.
View Comments