Bates and Veterans for Peace present Iraq war poetry reading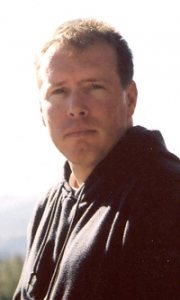 Poet Brian Turner Brian Turner, author of the Beatrice Hawley Award-winning poetry collection Here Bullet (Alice James Books, 2005), will read from his work at 7 p.m. Wednesday, Nov. 30, in the Benjamin Mays Center, Russell Street, Bates College. The public is invited to attend free of charge.
Turner earned an M.F.A. degree from the University of Oregon before serving for seven years in the U.S. Army. He was an infantry team leader for a year in Iraq with the 3rd Stryker Brigade Combat Team, 2nd Infantry Division. Previously, he deployed to Bosnia-Herzegovina with the 10th Mountain Division in 1999-2000.
Publishers Weekly describes Turner's work as "straightforward and direct. It highlights the violence and death of the war in a manner little seen elsewhere." New York Times Sunday Book Reviewer Joel Brouwer writes: "His poems about his tour of duty have a hurried quality, as if they had been drafted not back home in tranquil recollection but on the ground, in spare moments between patrols. As a result, his lines can have a terrific immediacy."
Turner's poetry has been published in journals, including Poetry Daily and the Georgia Review, and in the Voices in Wartime: The Anthology (White Press, 2005), released in conjunction with the feature-length documentary film of the same name. He lives in Fresno, Calif.
Turner's Bates reading is cosponsored by the English department and Maine Chapter 001 of Veterans for Peace.
View Comments