Amandla! presents 'Unity' conference, dinner and dance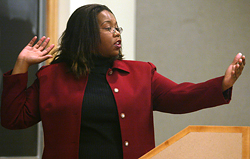 Amandla!, the African American student organization at Bates College, presents Unity Conference 2006: Building a Black Community, on Friday, March 3, and Saturday, March 4.
A series of events featuring a keynote speaker and food, film, workshops and a dance, the fourth annual conference opens with "Flava," a takeout dinner featuring Caribbean food, at 5:30 p.m., Friday, March 3, in Skelton Lounge, Chase Hall, 56 Campus Ave., Bates College. Tickets are $10 and all proceeds go to the Eagles Breakaway Conference 2006 in Kingston and Montego Bay, Jamaica. The gathering aims to empower young Jamaicans with the knowledge they need to make more informed decisions about their educational future.
Friday evening continues with a screening of the documentary "The Untold Story of Emmett Louis Till," followed by a discussion with the filmmaker, Keith Beauchamp, at 6:30 p.m., Friday, March 3, in the Keck Classroom, Pettengill Hall.
Beauchamp unfolds a drama that has lived in African American history for more than 50 years, producing eyewitness accounts from individuals speaking out for the first time. A product of nine years of research and investigation, this documentary led to the reopening of the case against Till's killers by the U.S. Department of Justice. See http://www.emmetttillstory.com for more about the film.
The evening concludes with "Meet the Neighbors," an ice cream social held at 8:30 p.m. in the Edmund S. Muskie Archives, 70 Campus Ave. Attendees can meet members of the community, exchange experiences and develop contacts.
The conference presents a series of four workshops in Pettengill Hall on Saturday,March 4. Registration for the event begins at 1 p.m. in Pettengill Hall. The workshops are free and open to the public.
"Surviving at a White Tertiary Institution" begins at 2 p.m. and addresses the issues of social life, academics, finance and resources available. A 3 p.m. session, "The Role of the Black Woman," explores the various vital roles black women play as leaders in the community. "What Does Success Mean to Me?" begins at 4 p.m., and "Remembering Our Roots" concludes the workshop series at 5 p.m. with a look at developmental issues that affect the ability of black students to contribute politically, socially and economically.
The Unity dinner, to be held at 6:30 p.m. in the Edmund S. Muskie Archives, 70 Campus Ave., will feature soul food and some Somali dishes. Dinner is free and open to the public. Reservations are requested; please contact Lois St. Brice at this lstbrice@bates.edu.
The dinner's keynote address will be given by Nishani Frazier, a visiting Mellon fellow at Bates in African American and American cultural studies and a Ph.D. candidate in history at Columbia University. An alumna of Spelman College and a native of North Carolina, Frazier is completing a dissertation on the history and impact of the Cleveland chapter of the Congress of Racial Equality (CORE). A historian and writer, Frazier's areas of focus include birth control, representations of African American women in history and film, archival and oral history preservation, and the 1960s freedom and Black Power movements.
Before serving as associate curator for African American history at Case Western Reserve Historical Society in Cleveland, Frazier spent two years as personal and administrative assistant to historian John Hope Franklin, including acting as his special assistant while he was chair of President Clinton's Advisory Commission on Race. She also worked as a researcher for the Dr. Martin Luther King, Jr. Center for Non-Violent Social Change in Atlanta. Frazier is the co-editor with Manning Marable of the anthology Freedom on My Mind: The Columbia Documentary History of the African American Experience (2003).
Frazier's article "'I'm Going to Die for the People': Prophecy and Death in the Lives and Rhetoric of Martin Luther King, Malcolm X, and Fred Hampton," will appear in the forthcoming anthology Homegoings, Crossings, and Passings: Life and Death in the African Diaspora.
The conference concludes with the popular Bates dance, Triad. An annual party since 1981, the dance's 2006 theme is "UNITY…It's a celebration!" The event, held in three Chase Hall rooms from 10 p.m. to 2 a.m., features hip hop, R&B, dancehall, soca, alternative, techno, salsa and reggaeton. Food will be served. The dance is open to the public, and tickets can be purchased in advance for $3 or for $5 at the door.
For more information on all events, contact St. Brice.
Amandla! (the Zulu word for "power") is an organization dedicated to promoting better understanding between students of African descent and the Bates community. Its members seek to expose the campus and the wider community to the black experience through sponsorship of cultural and social events.
View Comments