Former Whitewater counsel Kenneth Starr to speak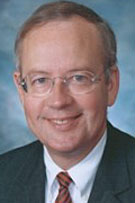 Pepperdine Law School dean and former U.S. independent counsel Kenneth Starr visits Bates College to speak on the topic Meaning of Marriage: Constitution and Judiciary at 7:30 p.m. Wednesday, March 22, in the Edmund S. Muskie Archives, 70 Campus Ave.
Open to the public at no charge, the event is sponsored by the Bates College Republicans, the college Lectures Committee, the political science department, the offices of the president, dean of the faculty and dean of students, and Young America's Foundation. For more information, please call 207-240-4549.
Starr is a partner with the law firm of Kirkland & Ellis, P.C., specializing in appellate work. He also teaches issues in constitutional law as an adjunct professor at New York University School of Law and as a distinguished visiting professor at George Mason University School of Law.
In 1994, Starr replaced Robert Fiske as prosecutor investigating the Whitewater real estate scandal involving, among others, then-President Bill Clinton and his wife, Hillary Rodham Clinton. The Whitewater investigation yielded little result, but in 1998 Starr's office broadened the inquiry to include the president's role in what became the Monica Lewinsky scandal. Starr's investigation led to Clinton's impeachment and acquittal.
Starr served as solicitor general of the United States from 1989 to January 1993. He argued 25 cases before the U.S. Supreme Court and represented the U.S. government on legal issues involving regulatory and constitutional statutes. He also served as U.S. Circuit Judge for the District of Columbia Circuit from 1983 to 1989, as counselor to U.S. Attorney General William French Smith from 1981 to 1983, and as law clerk to Chief Justice Warren E. Burger from 1975 to 1977 and 5th Circuit Judge David W. Dyer from 1973 to 1974.
Starr is the author of "First Among Equals" (Warner Books, 2002), a conservative examination of the late 20th-century Supreme Court.
Starr was raised in San Antonio, Texas. He received his B.A. from George Washington University in 1968, his M.A. from Brown in 1969 and his J.D. degree from Duke University School of Law in 1973. He has received numerous honors and awards including the Jefferson Cup award from the FBI, the Edmund Randolph Award for Outstanding Service in the Department of Justice, and the Attorney General's Award for Distinguished Service. He lives with his family in McLean, Va.
"I am honored to welcome Judge Starr to Bates," stated Nathaniel Walton of Marblehead, Mass., a Bates sophomore and chairman of the Maine College Republicans.
View Comments