Harrow to investigate diverse approaches to child protection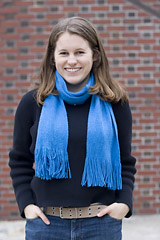 Amanda Harrow has pursued her interest in child-protection policy and practice through an internship with the Massachusetts Department of Social Services and through her Bates senior thesis, which has examined interventional approaches to domestic violence through service-learning work at the Abused Women's Advocacy Project, Lewiston.
For her Watson Fellowship research year, which begins this summer, "in each country I'm looking at a different aspect or a different player in the realm of protecting kids," Harrow explains.
In New Zealand, she will research family counseling practices adapted by the state from the customs of the indigenous Maori people.
In Peru, she will look at the role played by nongovernmental organizations in child protection and adoption, as well as residual effects on domestic violence rates from the long war against the Shining Path insurgency.
In Uganda, Harrow will investigate how various religious organizations function in the child-protection role and how AIDS has affected traditionally resilient family structures. Finally, in Sweden, she plans to examine the correlation between the robust state welfare system and low rates of child abuse.
Harrow is also one of two recipients of Bates' 2006 William Stringfellow Award in Justice and Peace, bestowed in March. An organizer of the New World Coalition and the Women's Resource Center, and a member of the Bates Emergency Medical Services board, Harrow has been active in various social justice groups in Lewiston-Auburn. She has worked extensively to promote gender equality and redress the consequences of inequality through her work with the Abused Women's Advocacy Project, the Massachusetts Commission on the Status of Women and RAINN, the national sexual assault hotline.
The Watson "is really amazing, and it's an honor," Harrow says. "I'm really excited, and I'm definitely slightly terrified," she adds with a laugh.
View Comments