The recipient of a 2023 Truman Scholarship, Aaliyah Moore '24 of Phoenix will pursue graduate studies to build her skills in advocacy, research, and education, then tackle systematic disparities within the U.S. legal and foster-care systems.
Federally funded Truman Scholarships, which are awarded to students with demonstrated leadership potential and a commitment to public service, are considered among the most important U.S. graduate fellowships.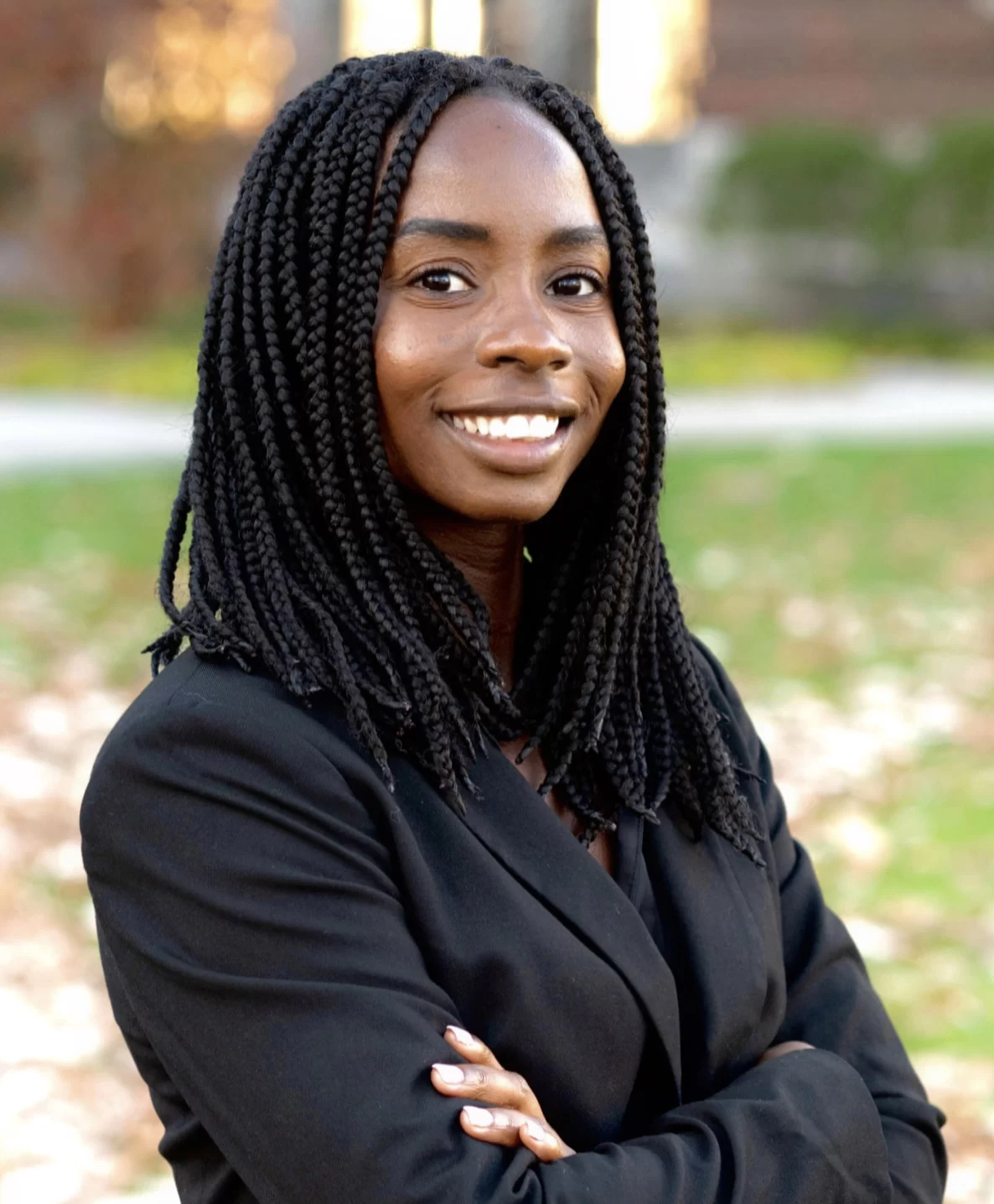 Moore is one of 62 recipients of a Truman Scholarship from more than 700 applicants this year. The scholarships provide up to $30,000 for graduate study as well as leadership training, career and graduate school counseling, and federal government internship opportunities.
"We have confidence that these 62 new Trumans will meet their generation's challenges together," says Dr. Terry Babcock-Lumish, the foundation's executive secretary. "Selected from across America, the 2023 Truman Scholars reflect our country as innovative, purposeful, patriotic problem-solvers, never shying away from a challenge."
"She has proven herself to be a leader, a problem-solver, and an exceptionally talented and determined student."

Bates President Clayton Spencer
Established by Congress in 1975 as the living memorial to President Harry S. Truman and a national monument to public service, the Truman Scholarship carries the legacy of the 33rd president by supporting and inspiring the next generation of public service leaders.
"I am thrilled for Aaliyah and the opportunities this scholarship will open up to her," said President Clayton Spencer. "I have worked with Aaliyah on several projects since her first year at Bates, and she has proven herself to be a leader, a problem-solver, and an exceptionally talented and determined student. Aaliyah is trustworthy and intuitive."
Spencer added, "She brings a powerful mind, a strong sense of purpose, and great self-awareness to the tasks at hand, and her already-impressive commitment to public service is both deep and personal. The Truman Scholarship is a wonderful recognition for Aaliyah and a tribute to the many members of the Bates community who have worked with her here, and who look forward to cheering her on in this next chapter."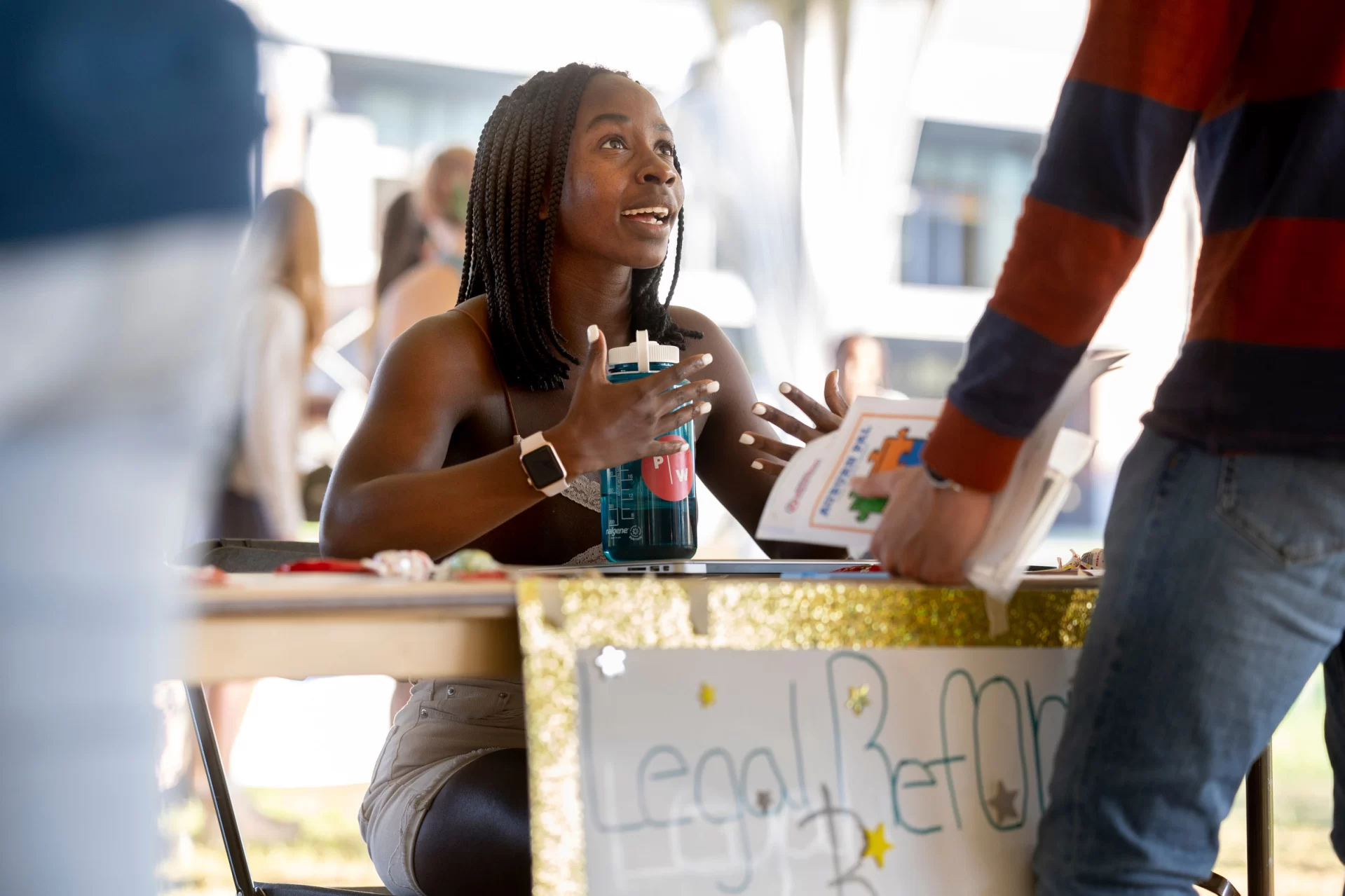 Moore intends to pursue graduate degrees in both law and African American studies, with the intent to use her voice to challenge U.S. institutions that violate civil rights, including the rights of people in foster care and people who are incarcerated. "I hope to help the poor, incarcerated, and condemned, protecting basic human rights for the most vulnerable people in American society," Moore says.
Moore says that her "upbringing as an African American woman living in subsidized housing and foster care shaped my determination to use advocacy, scholarship, and education to combat systematic disparities within our legal and foster care systems. I want to address the lack of reintegration support for foster children and formerly incarcerated individuals and defend the wrongfully convicted from prison."
Moore points to the "direct correlation" between youth leaving foster care and homelessness, sex trafficking, and incarceration rates. The U.S. Bureau of Justice Statistics estimates that 23,000 foster youth will exit the foster care system each year. Of those, 46 percent will be homeless and 70 percent will have been arrested at least once by age 26. "More alarmingly," Moore says, "60 percent of the child sex-trafficking victims recovered in a 70-city FBI raid were children from foster care or group homes."
Moore, a double major in politics and Africana who is currently in South Africa studying multiculturalism and human rights during a semester abroad, has emerged as an important and effective student leader at Bates and in the broader community. She has been extensively involved with the Lewiston-Auburn and Maine communities focusing on issues of social justice and, specifically, incarceration.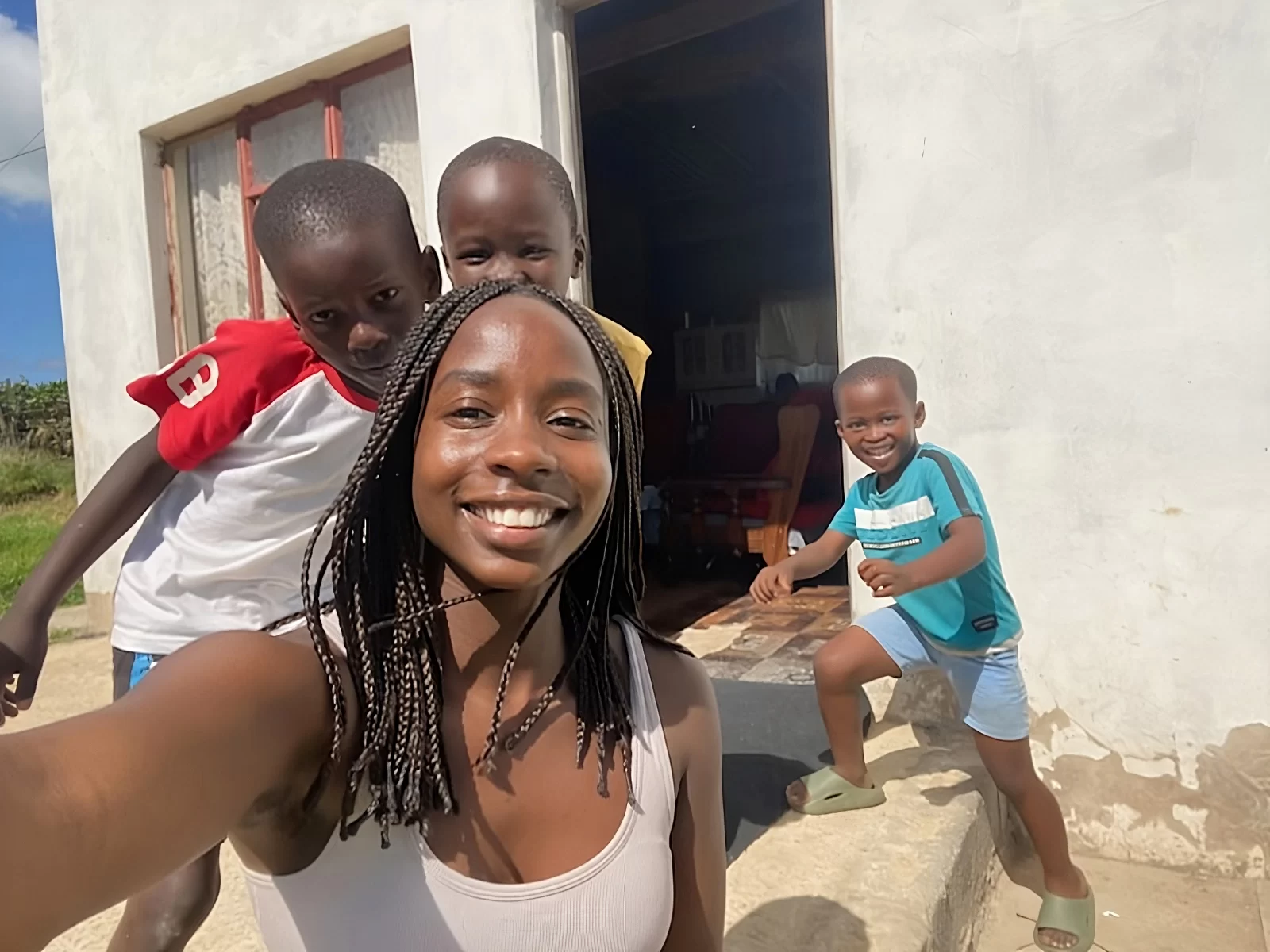 This work began in her first weeks at Bates, when, as a first-year student, Moore successfully advocated for the creation of a new student position within the Harward Center for Community Partnerships to focus on legal reform. As the center's inaugural Community Outreach Fellow for Legal Reform and Social Justice, Moore built out partnerships with local organizations; helped establish or expand initiatives with statewide organizations; and recruited, trained, and scheduled student volunteers. In 2021, she received a Bates College Outstanding Community Engagement Award.
She volunteers with the Maine Prisoner Reentry Network, meeting regularly with clients to discuss reentry resources. In April 2021, Moore organized Squashing Stigmas, a campus workshop that partnered with the reentry network to debunk myths and stereotypes about incarceration and the incarcerated in Maine. The summer after her sophomore year, she interned with College Guild, a nonprofit that provides free education to incarcerated persons, in which she read and provided feedback on coursework submitted by incarcerated persons.
Moore has also been a Bonner Racial Justice Fellow with the Harward Center to encourage and lower barriers for BIPOC students to engage in community organizations that prioritize racial equity and justice. "Although Bates is a predominantly white institution [PWI], it is surrounded by a large African immigrant community," she explains.
And while many Bates students are involved in the community, "very few of them are BIPOC. Representation matters, yet in too many instances, schools like Bates fail to incorporate equitable community engagement opportunities in their pursuit to foster relationships with diverse communities."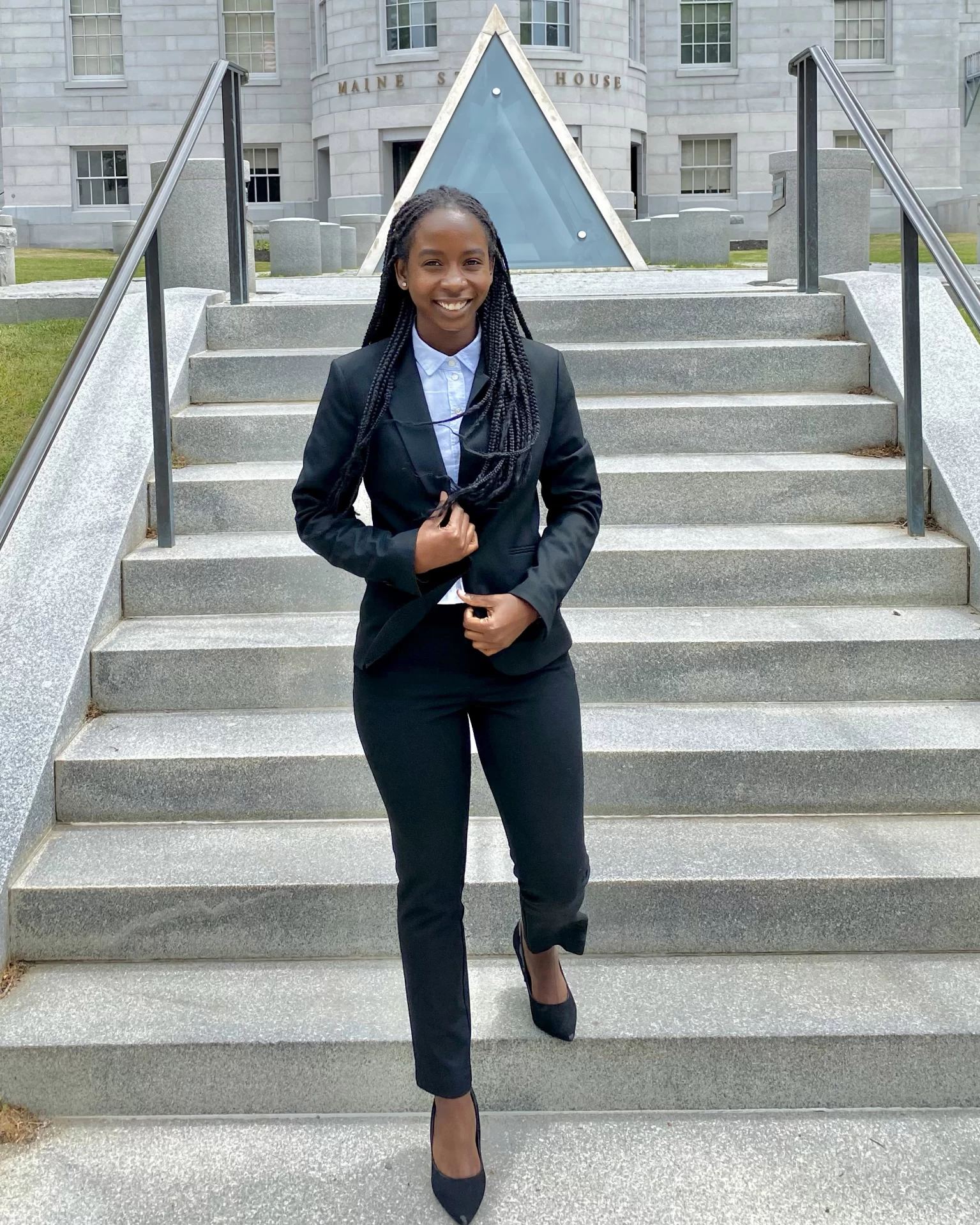 In other Bates activities, Moore co-founded a residential theme house, Empowering Young Minds, and has served as a student liaison for the Bates College Communications Office to ensure equity and inclusion in marketing materials.
She is a member of the Martin Luther King Day Planning Committee and has been a residence coordinator for Residence Life and Health Education. Nominated by fellow students, she served on a campus committee to develop a new academic requirement focused on improving understanding of how race, power, privilege, and colonialism shape culture, opportunities, and issues globally.
She was recently selected as a 2023–24 Newman Civic Fellow, a program sponsored by Campus Compact that honors students with great potential for public leadership and a track record of work with communities.
Moore points to Bates academic courses that have prepared her for the next step in her education, including "Race and Mass Incarceration," which challenged her to "consider how laws and policies changed how we punish crime as a country and the disproportionate impact on Black and Brown communities"; and "Power and Protest," which taught her "theories of protest, from nonviolent resistance to armed insurrection to social critique and the role white supremacy plays in power."
After Bates, Moore intends to pursue both J.D. and Ph.D. graduate degrees. For her Ph.D., she seeks a program in African American studies that offers the "opportunity to critically analyze the issues faced by African-descent people in the U.S."
Through her legal studies, Moore hopes to gain the skill to"fight for the release of wrongly incarcerated persons, challenge institutions violating one's civil rights through discriminatory practices, and become a pioneer in civil rights advocacy, scholarship, and teaching."
In her Truman application, Moore was asked to look ahead past her graduate studies. Where does she see herself? The answer, Moore said, is written on the walls of her Bates dorm room.
"I made my walls into vision boards. On one wall, there is a cluster of images depicting Harriet Tubman, Angela Davis, Ida B. Wells, Sojourner Truth, and others. In the middle, I intentionally left an empty space" — a place for her future self. Inspired by those forebears, Moore hopes to be similarly inspirational and influential — to be among thinkers and problem-solvers who "strive to expand our understanding of race, legal ethics, and systemic injustices."
This year's Truman Scholars were nominated by 275 colleges and universities, and in turn were recommended by 17 independent selection panels based on the finalists' academic success and leadership accomplishments, as well as their likelihood of becoming public service leaders.