Rigor, creativity drive Short Term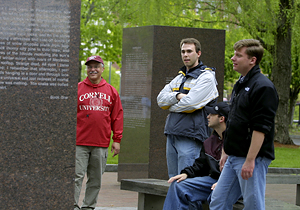 Bates' Short Term has come a long way since it was established 40 years ago.
This five-week spring session started out as an efficiency measure. It enabled Bates to get more use from its facilities, and enabled students to complete the Bates education in three years instead of four, if they so desired. (For more about the history of Short Term, see the article "May 1966: The first Short Term.")
Short Term remains a distinctively Bates experience, but now for reasons having less to do with thrift and more with the College's hallmark academic strengths: specifically, intellectual rigor and dynamic creativity.
For faculty members, Short Term can serve as a testing ground for new approaches to presenting a topic. This spring, for example, a theater course will bring in an improvisation expert to give students a fresh perspective on the plays of Samuel Beckett. A new history course will use the work of such food writers as M.F.K. Fisher and Julia Child as a lens for examining social history.
And a new interdisciplinary unit combining archaeology, history and environmental studies will explore how long-ago inhabitants of Scotland's Shetland Islands dealt with the impacts of climate change. (This July course, by the way, is one of two 2006 Short Term units scheduled outside the regular five-week period. The other takes place during the Bates Dance Festival in July and August.)
Math major Alexandria Salton '07 took one of 2005's most talked-about new Short Term units, which studied roller coasters as a means of conveying principles of mathematics and physics. "This class was exactly what I had been waiting for," Salton says, affording an opportunity to understanding theory in real-world applications — including a field trip to the roller coaster mecca, Ohio's Cedar Point Amusement Park.
"The class also allowed me to work with another one of my passions, teaching," Salton says. Assistant mathematics professor Meredith Greer granted the students plenty of latitude in their selection of a class project, and Salton ran with that opportunity.
Salton and two classmates prepared a unit on physics and roller coasters that they taught to seventh-graders at Lewiston Middle School. "I really enjoyed this class because it included math, traveling, and teaching all in one," she says. "It really rejuvenated my love for math, and even made me think about different career options involving math."
While study abroad during the fall and winter semesters is a common part of the college experience, travel during Short Term has a quality all its own. Now a member of the college's Alumni and Parent Programs staff, Darcy York '05 took "Shakespeare in the Theater" for her first Short Term. The program included a week of Shakespearean immersion in the Bard's birthplace, Stratford-upon-Avon, and two weeks in London.
"I think we saw 14 productions in all," York says, including the Royal Shakespeare Company's A Winter's Tale, the Royal Ballet's Romeo and Juliet and a West End presentation of Kiss Me Kate, adapted from The Taming of the Shrew.
"The entire trip was a blast," says York, "but seeing my favorite play, Twelfth Night — performed at the Globe Theatre by an all-male cast for the play's 400th birthday — was one of the best things I've ever done."
Its travel opportunities and bold experimentation may be Short Term's most conspicuous qualities, but its greatest virtue is likely the intense focus that it allows students to bring to a single topic. "History Hell" ("Introduction to Historical Methods") and "Math Camp" ("Introduction to Abstraction") are legendary among Bates alums for creating both intellectual intensity and lasting friendships.
Other units bring this same intensity to study in a community setting. A biological chemistry major, Monique Brown '07 used the biology unit "Work-Study Internship in the Natural Sciences" to pursue an area of particular interest: child psychiatry.
Working with adviser Kathy Claerr, an assistant in instruction in the biology department, Brown interned at a psychiatric institution for children. Involved directly with the young patients, "I worked from 12:30 to 8:30 p.m., five days a week," Brown says. "The hours were long but worth it."
"This experience had a major impact on my decision to pursue a career of medicine and possibly a specialty in psychiatry," says Brown. "I was able to connect to the children in a way that I never thought was possible."
For the unit's required final project, Brown put together a booklet of the various tranquilizers and antipsychotic drugs and how they were used at the hospital. "I wanted to give back something to the institution," Brown says. The booklet is still being used as a quick reference by hospital staff.
View Comments