Short Term's a time for rigor, research…and Red Sox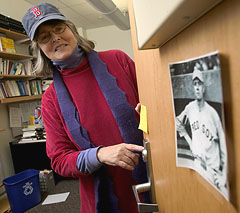 Short Term at Bates is known among students for pressure-cooker courses like "Cellular and Molecular Biology," aka "Cell Hell," and "Introduction to Abstraction," better known as "Math Camp."
But the academic offerings during these five weeks of spring have a reputation not only for rigor but for topicality, adventurousness and even, dare we say, for fun. And Short Term units new in 2005 are no exceptions.
Historian Margaret Creighton, whose new book on the Battle of Gettysburg has received critical acclaim nationwide, hits a home run on the topicality front with her new "Red Sox Nation," a unit exploring the cultural history of New England's favorite team.
Topicality in the sciences is reflected in one new psychology unit that examines adolescence from perspectives ranging from gender to religion to socioeconomic status, and another exploring historical and technical aspects of sleep research. (A subject not so topical but certainly fun undergoes a mathematical analysis in "Roller Coasters: Theory, Design, and Properties.")
Meanwhile, with the world of Islam still a mystery to many Americans despite its presence in the daily news, Bates explores this religion in two units — one a comparative study also involving several Asian belief systems, and the other traveling to India to study in depth that country's Islamic traditions.
Speaking of travel, Short Term can provide a needed getaway for students and faculty alike. This spring, one group will go to Budapest and Prague to investigate regional film and theater. Another will visit Morocco to witness the legacy of French and Spanish colonialism. Still another will visit Chile to investigate environmental politics.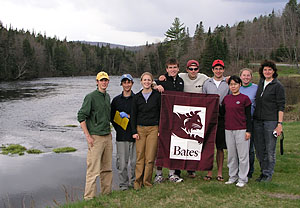 And even when they stay on campus, the students of Short Term may find themselves wandering back in time: back to the Viking conquests, back to the age of Chaucer — in a unit taught by Bates President Elaine Tuttle Hansen — or back just a few years to the origins of electronic dance music in Chicago and Detroit.
In short, like spring itself, Short Term is the time to get out and see what's going on. As a sophomore, Sarah Klenakis '05 took the unit "Religion in the City." The course, exploring how various religions find expression in the community, was an eye-opener.
"We toured Maine's most renowned Catholic church" — Lewiston's Basilica of Saints Peter and Paul — "met with a cantor at a synagogue, mediated with monks at a Buddhist temple, and got the rare opportunity to tour a local Shaker village," Klenakis says. "Each experience was intriguing and rewarding."
View Comments