Pulitzer Prize-winning poet Mary Oliver to read at Bates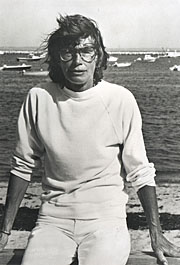 Poet Mary Oliver, whose writing has won the Pulitzer Prize and the National Book Award, visits Bates College to read from her work at 7:30 p.m. Monday, Sept. 25, in the Olin Arts Center Concert Hall, 75 Russell St.
Made possible by the Philip J. Otis Endowment, the annual Otis Lecture is open to the public at no cost. A reception and book signing will be held in the Olin lobby after the reading. For more information, please call 207-786-6135.
Oliver is firmly established in the highest realm of American poets. Her evocative and precise imagery brings nature into clear focus, transforming the everyday world into a place of magic and discovery. Her work, as her fellow poet Stanley Kunitz said, "is fine and deep; it reads like a blessing. Her special gift is to connect us with our sources in the natural world, its beauties and terrors and mysteries and consolations."
Oliver's many books include such poetry collections as No Voyage and Other Poems (1965) and the Pulitzer Prize-winning American Primitive (1983), and prose works such as Rules for the Dance: A Handbook for Writing and Reading Metrical Verse (1998) and Long Life: Essays and Other Writings (2004).
Thirst, a new book of poems, will be published by Beacon Press in October 2006.
Oliver attended Ohio State University and Vassar College. As a young writer, strongly influenced by Edna St. Vincent Millay, she wrote to the late poet's sister and was invited to visit. For the next several years Steepletop, the poet's country house in upper state New York, became her second home.
Subsequently Oliver moved to New York City, visited England for a year and then, in 1964, returned to the United States. She has taught at various colleges and universities, including Case Western Reserve, Bucknell, Sweet Briar College, the University of Cincinnati and Bennington College.
She lives in Provincetown, Mass.
The annual Otis Lecture at Bates is funded by the Philip J. Otis Endowment,established in 1996 by a gift from Margaret V.B. and C. Angus Wurtele in memory of their son, Philip, a member of the class of 1995 who died attempting to rescue injured climbers on Mount Rainier.
In recognition of Otis' appreciation for nature, the endowment helps support Bates programs with an environmental focus, in particular those exploring the spiritual and moral dimensions of humanity's relationship with the environment.
View Comments