Saturday series relates poetry, visual arts for young people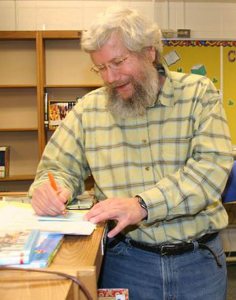 Paul Janeczko, a prolific Maine author who specializes in teaching poetry to young people, will lead a workshop in the Museum of Art children's program that explores poetry in relation to the visual arts.
Part of the museum's Thousand Words Project, an educational outreach program, the two-part series for fourth- through eighth-graders begins at 10 a.m. Saturday, Feb. 5. Museum staff will offer the two-hour session An Introduction to Writing Poetry from the Visual Arts through the Thousand Words Project.
Janeczko, of Hebron, leads the second session, Writing Poems From Art, which starts at 10 a.m. Saturday, Feb. 12.
Both sessions take place at the museum, located at 75 Russell St. A session postponed by severe weather will take place at 10 a.m. the following day. The program costs $10; space is limited and preregistration is required. To register, please contact Anne Odom by email or at 207-786-8212.
Janeczko's books include poetry, fiction and nonfiction. An experienced educator, he visits schools around the country to introduce children to poetry. His nonfiction works include The Dark Game: True Spy Stories (Candlewick, 2010) and Top Secret: A Handbook of Codes, Ciphers and Secret Writing (Candlewick, 2006).
The Bates program is offered as a ramp-up to the Poetry Out Loud state finals at the Franco-American Heritage Center in Lewiston on March 11, and is supported by the Maine Arts Commission. Created by the National Endowment for the Arts and the Poetry Foundation, in partnership with state arts agencies, Poetry Out Loud encourages young people to discover great poetry through memorization and recitation.
The program builds on the recent resurgence of spoken poetry by bringing the dynamic aspects of slam poetry, spoken word and theater into English classes. Registration is open to all public, private, parochial and home-school high schools in Maine.
The Thousand Words Project at the college's Museum of Art focuses on the teaching of writing skills through the exploration of visual art. A Web-based TWP video and curriculum guide, produced by Durham-based Leighton Images, has just been launched. The TWP was designed by the museum's curator of education, Anthony Shostak.
View Comments