Caribbean theater company blends music, dance and poetry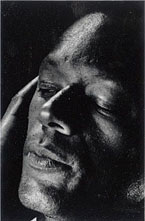 Bates College presents Andidan Lawonn-la, a multilingual performance of music, dance and poetry by the Caribbean Theater Company Siyaj at 8 p.m. Wednesday, Nov. 1, in the college chapel, College Street.
Performed mostly in French and French Creole (an English text will be provided), "Andidan Lawonn-la" is open to the public at no cost. It is sponsored by the departments of anthropology, music, and romance languages and literatures; the programs in African American studies and dance; the Francophone Club; and the Multicultural Center. For more information, please call 207-755-5938.
Based in Guadeloupe, French West Indies, Siyaj consists of poet and storyteller Joby Bernabé, dancer Gilbert Laumord and two musicians, guitarist Dominique Domiquin and percussionist Klòd Kiavué.
"Andidan Lawonn-la" ("In the Circle") is based on the "lewoz," a Guadeloupean ceremony centered on a drum called the "gwoka" or "tambou-ka." Brought to the island by African slaves and rejected after the abolition of slavery, the gwoka has been rediscovered and now represents a powerful affirmation of African roots and Caribbean identity.
"Andidan Lawonn-la" has the four performers in a circle that symbolizes the cycle of life and death. They pay homage to their ancestors whose spirits have returned to Africa but continue to communicate with the living.
Laumord founded the Theater Company Siyaj in 2002. He is a well-known performer in Guadeloupe, where he was born and where he now works after several years abroad, notably in France, where he acted professionally with a variety of respected directors. An actor, singer and dancer, he is a staunch defender of Creole language and culture.
Bernabé, a poet and storyteller, was born on Martinique and studied in France before traveling in Africa. Returning to Paris, he became active in theater and used the stage as a platform for criticizing the French political and cultural domination of its overseas departments, such as Guadeloupe and Martinique. He returned in 1975 to Martinique, where his performances in his native Creole have made him well-known.
View Comments