Mount David Summit highlights student achievement across disciplines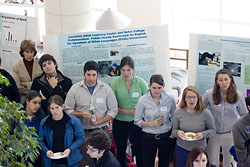 More than 300 Bates students will take part in the sixth Mount David Summit, the college's annual celebration of student academic achievement. The event opens with a ceremony at 2:30 p.m. Friday, March 30, in the Perry Atrium of Pettengill Hall, where many of the day's events will take place.
Sponsored by the dean of the faculty's office, the event is open to the public at no cost. For more information, please contact Kerry O'Brien at this kobrien@bates.edu or 207-786-6065.
The Mount David Summit offers students an opportunity to share their recent research, service-learning and creative work. In concurrent sessions throughout the afternoon, students will present research posters, short talks, poetry readings, dramatic performances, art exhibitions and video screenings. The summit will culminate in a performance by the Bates College Modern Dance Company at 7:30 p.m. in Schaeffer Theatre, 305 College St.
Click these links for a full summit schedule, lists of poster presenters and additional presenters, research project abstracts, and a summit overview.
This year's many presentations include these notable examples:
— Students in Alex Dauge-Roth's French course, "Documenting the Genocide of the Tutsi in Rwanda," will offer dramatic survivors' testimonies they have collected from a semester's worth of correspondence with young adults in Rwanda (this session is a prelude to a weekend conference, hosted by Bates on the Rwandan genocide);
— A panel of anthropology students will consider the cultural politics of the Arab-Israeli conflict;
— 37 students from Eric Hoogland's politics course, "U.S. Foreign Policy in the Middle East," will stage a mock U.S. Senate hearing, assuming the roles of senators of all political persuasions, lobbyists and White House representatives;
— Three students will offer readings of their recent poetry, and four others will offer talks on literary criticism;
— More than 100 research posters in two sessions will be presented by students in American cultural studies, biochemistry, biology, chemistry, education, environmental studies, English, geology, history, mathematics, neuroscience, philosophy, physics, politics, psychology and Russian;
— Students from Matt Côté's first-year seminar, "Nanotechnology Project: Manipulating Atoms," will present posters on their collaborative projects, while juniors and seniors in Bob Thomas's advanced seminar, "Plant Physiology," will offer posters on their research;
— Short talks by students will cover a wide range of topics including wetland management and public health threats in post-Katrina New Orleans, the portrayal of Africans in Roman art, atmospheric deposition at Acadia National Park, children's books and gender stereotypes, and the Hawaiian sovereignty movement.
The event title "Mount David" is borrowed from a Bates landmark — the tall, wooded rocky outcropping at the corner of Mountain Avenue and College Street.
View Comments