John J. Margarones '48, professor emeritus of education, dies at 87
Professor Emeritus of Education John J. Margarones '48, who helped to transform teacher education at Bates from a classroom-based endeavor to one that embraced student teaching in local schools, died Nov. 15 at age 87.
---
---
Professor Margarones arrived at Bates in 1966, and at the time of his 1991 retirement, he told
Bates Magazine
that "instead of treating education courses as classroom subjects, Bates has a laboratory adjunct program, where students get hands-on practice in the schools. It's not just a separate practicum, it's just a part of the course."
The goal, he said, was to help aspiring teaching gain skills that cannot be learned in a classroom.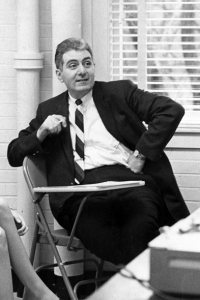 As a teacher, "you have to have the attitude for outreach," he said. "You not only have to have the basics — knowledge of content — but you have to have the personality attribute, and this you can develop. This you can't teach, you must experience."
Professor Margarones grew up in Old Orchard Beach, where his Greek-immigrant father was a barber and bowling lanes owner who, in the summer, gave haircuts to Bates President Clifton Daggett Gray and other Bates professors who vacationed at nearby Ocean Park, a Freewill Baptist enclave.
Since more than a few of these professors, including Gray, were classicists and theologians trained in Greek, they also enjoyed speaking with the elder Margarones in his native tongue.
In retirement, Professor Margarones lived in Old Orchard Beach, where he was a passionate and thorough town historian. He  wrote Personality Vignettes of Old Orchard Beach, 1930s and 1940s and People and Place Profiles, 1930s and 1940s. A third history, tentatively titled, The Unsung Personalities, was being written when he died.
Professor Margarones served as an Army Air Corps bombardier in World War II. He earned a doctorate in education from Boston University.
He is survived by his wife, Viola (18 Seaside Ave., Old Orchard Beach, 04064); children Estelle '88, Joseph, Margot, Katherine, and Melissa '96; nine grandchildren; and two sisters.
View Comments