Gogol Bordello brings punk-flavored world sounds to Bates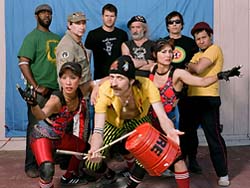 Gogol Bordello, a band that feeds a growing cult following with a frenetic mix of Gypsy, punk and world musics, performs at Bates College at 9 p.m. Saturday, Oct. 13, in the Clifton Daggett Gray Athletic Building.
The concert is presented by the Chase Hall Committee, a student organization at Bates. Tickets are $10 at the door (while they last) or in advance at Bull Moose Music locations, and are available online for $12 (includes a $2 handling fee). Anyone with a valid Bates ID is admitted free. For more information, please call 207-795-7496.
Since 1999, the critically esteemed Gogol Bordello has been smashing musical barriers with a supercharged Eastern European two-step rhythm churned together with punk, metal, rap, flamenco, roots reggae, spaghetti Western, dub and other sounds generated by rebels from across the globe.
The band's philosophy is simple and pragmatic: Music makes it possible to make the contradictions of life sound harmonious, at least for the duration of a song. What they call their "transglobal rebel rock" is based on the belief that music and art can transform negative energy to positive and inspire individual action.
"The musicianship of this New York-based Gypsy-punk-cabaret collective is often dazzling, creating a culture-clash fusion of dub flamenco and other styles that reflects the dizzying immigrant experience," wrote a Los Angeles Times reviewer. The band's new album, Super Taranta! (SideOneDummy Records), said longtime rock critic Robert Christgau, is "the best rock album of the decade. Period."
Lead singer and founder Eugene Hutz grew up in the Ukraine on a diet of punk-rock. As a teenager, he and his family came to the U.S. after escaping the Chernobyl meltdown and enduring a seven-year trek through Eastern European refugee camps.
During that journey, says Hutz, "we visited the village my family came from. My relatives introduced me to the essential foods and music of our Gypsy culture. My parents hid [their Gypsy roots] in the city; in the countryside I was face to face with it. My biggest musical influence was coming face to face with that ancient culture."
Three members of the eight-member band come from Russia and another from Israel. Gogol Bordello includes accordion and violin, not to mention two percussionist-dancers, in addition to the more typical rock instrumentation of guitar, bass and drums.
Super Taranta! is Gogol Bordello's sixth full-length recording. The Bates stop is part of an American tour that concludes in their hometown, New York City, in November.
"Super Taranta! is our interpretation of tarantella, a ritual music from Italy," Hutz says. "I saw a painting in Tuscany of a woman in convulsions and a guy playing a violin. He's leaning over her, playing music to cure her hysteria, put her into a trance and exorcize her demons. It was sexual, mystical and cultural, almost obscene — all the qualities of Gogol Bordello."
He adds, "Our musical awareness isn't based on flirtatious moments of musical fusion; we're constantly adding new stuff that compliments our roots: the Gypsy music from the Carpathian Mountains of Ukraine."
Hutz is driven by an inexorable creative desire. In the past two years he starred in Liev Schreiber's film Everything Is Illuminated and was the focal point of Pied Piper Of Hutzovina. This documentary follows him to the Ukraine in 2006, as he searches for the extended family he left behind at the time of Chernobyl.
"It was a challenging experience," he says. "The film connects the dots, joining different aspects of Gypsy culture in Hungary, Ukraine, Russia and Siberia, from its manifestations in elite society all the way down to the musicians and activists in the ghetto."
View Comments