Bates welcomes the Maine State Climate Summit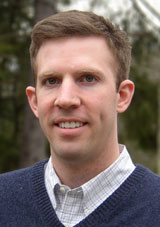 The Bates Energy Action Movement and the Sierra Student Coalition, the student chapter of the Sierra Club, co-sponsor the Maine State Climate Summit at Bates College from Friday, Feb. 8, through Sunday, Feb. 10.
Students attending high schools, colleges and universities in Maine are invited to take advantage of this opportunity to discuss and act on issues and ideas, ranging from wind power to eco-art, that pertain to climate change.
Maine Sen. Phil Bartlett (D.-Dist. 6) gives the keynote address at 7:30 p.m. Feb. 8. Chair of the state Senate's Utilities and Energy Committee, Bartlett, of Gorham, led efforts to bring Maine into the Regional Greenhouse Gas Initiative, a 10-state agreement to limit greenhouse gas emissions from power plants. Also among scheduled presenters are representatives from the Natural Resources Council of Maine, the state Public Utilities Commission, and Bates and Dartmouth colleges.
Specific locations for summit events were not determined by press time. A per-person registration fee is charged on a sliding scale from $15 to $30. For more information, including the full program schedule, please visit the B.E.A.M. Web site. To register, please visit the Sierra Student Coalition Web site.
Speakers include Normand Laberge, a tidal power specialist representing the firm Tidewalker Associates; professor Michael Dorsey, a climate change policy specialist at Dartmouth College; and Kurt Adams, chairman of the Maine Public Utilities Commission.
Representatives from the organizations Clean Air-Cool Planet, the Sustainable Endowments Institute and the Natural Resources Council of Maine, as well as Bates and the Sierra Student Coalition, will also address the gathering.
The program includes workshops, focus groups and brainstorming sessions all designed to empower students to guide their schools toward carbon neutrality.
Registrants to date include students from the University of Maine System, Unity College, the College of the Atlantic, Bowdoin College, York Community College and an eighth-grade class from Boxberry School in Oxford.
View Comments