Bates to stage U.S. premiere of work by leading Hungarian playwright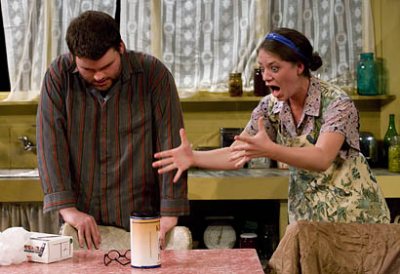 Hungary's leading playwright, György Spiró, offers a talk called Trends in Contemporary Eastern European Drama at 4:30 p.m. Tuesday, May 13, in Skelton Lounge, Chase Hall, at Bates College, 56 Campus Ave.
The talk, which takes place the day before Bates presents a Spiró play in its American and English-language debut, is open to the public at no charge. For more information, call 207-786-8294.
Spiró is in residence as a learning associate at Bates during the theater production workshop that is presenting his short play Prah. Sharing a bill with Prah is Unveiling, by Czech writer Vaclav Havel. The program will be presented in performances at 7:30 p.m. Thursday through Saturday, May 15-17, and at 2 p.m. Sunday, May 18, in Gannett Theater, Pettigrew Hall, 2 Andrews Road.
Admission for the plays is $6 for the general public and $3 for children and seniors. For more information, please call 207-786-6161 or visit the Bates online box office.
Prah is about two people who belong to the in-between generation of contemporary Hungary, explains Martin Andrucki, Charles A. Dana Professor of Theater at Bates. Born and raised under communism, the pair can't imagine how to reinvent their lives when they suddenly become rich.
"It's a darkly funny story about old habits confronted by new and unbelievable opportunities," says Andrucki, who is leading the workshop, held during Bates' five-week Short Term. Andrucki commissioned the translation of the play, which he hopes will be become the standard English-language version.
According to the Columbia Encyclopedia of Modern Drama, Spiró's work has "opened a series of windows onto an era of transition: out of the bane of communism and into the bane of uncertainty."
As Andrucki puts it, the playwright "has paid sustained and detailed attention to the relationship between people and their social environment both during and after the communist era — finding plenty to be critical about in each period."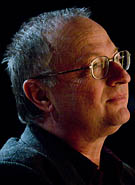 He adds, "It's important to see how an insider views life in Hungary after the fall of communism. Seeing this play will help American audiences understand some of the world's headlines in terms of the everyday lives of ordinary people."
For his students in the production workshop, meanwhile, "the play calls for detailed realistic acting and staging, so it allows the actors, directors and designers to dig deeply into character and environment."
Having Spiró on hand will be an invaluable resource for the students. Not only will they be able to ask about character motivation and plot, but having the playwright in the audience is "the ultimate incentive to get it right" according to Andrucki.
Havel is known as both a writer and as the first president of the Czech Republic after the fall of the Iron Curtain. Unveiling is one of three plays he wrote in the 1970s, during the crackdown following Czechoslovakia's "Prague Spring" of 1968, about a persecuted writer named Vanek.
"Vanek is widely regarded as Havel's alter ego," Andrucki explains — "a man whose dissident politics have gotten him into trouble with the authorities and alienated him from his conformist friends."
In "Unveiling," a couple who invites Vanek to see their newly remodeled home try to sell Vanek on their consumerist view of life, with increasingly bizarre results. Havel's scathingly funny satire of materialism gone wild has proven popular with audiences worldwide.
View Comments