One-man play at Bates College recreates Maine school for orchestral conductors
Playwright, actor and musician David Katz performs Muse of Fire, his one-man play about the art of conducting, at 7:30 p.m. Friday, Sept. 25, in the Olin Arts Center Concert Hall at Bates College, 75 Russell St.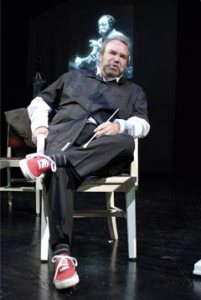 Tickets are $6 and can be purchased at batestickets.com. For more information contact 207-786-6135 or this olinarts@bates.edu.

Written by Katz and first directed by the late Tony award-winner Charles Nelson Reilly, Muse of Fire revisits Katz's experiences at the famed Pierre Monteux School for musical conductors in Hancock, Maine, where he studied under Charles Bruck. As the master teacher at Monteux for 26 years, Bruck is remembered as much for his temper as for an acerbic wit and profound belief in the power and importance of music.
Affording a rare insight into the process of bringing classical music to life, the play follows Katz's complex relationship with Bruck. It's a progression from fearing the difficult maestro to seeing him as a mentor, and the narrative, says Katz, is meant to form "perfect arcs: from hatred to love, failure to triumph, life to death."
Muse of Fire, which premiered in Maine in 2005, is the brainchild of the multitalented Katz, an award-winning composer, conductor, writer and arts entrepreneur. He has a long history with the arts in Maine, having founded and conducted Opera Maine and the Chamber Orchestra of Maine.
Muse of Fire appeared around Maine to rave reviews. The Bar Harbor Times described it as "variously funny, horrifying, poignant and sometimes so suspenseful it's like watching a close football game." The Bangor Daily News had similar sentiments, calling it "a searing and unforgettable portrait of the man who shaped a generation of conductors who hear the music with their hearts."
Music by more than a dozen beloved composers is woven into the fabric of the story. The combination of story and orchestration helps create what one reviewer described as "the most compelling theatrical celebration of classical music since 'Amadeus.' "
Learn more: www.museoffiretheplay.org/index.html.
View Comments