Robinson Players present staged reading of professor's 'Nutcracker' adaptation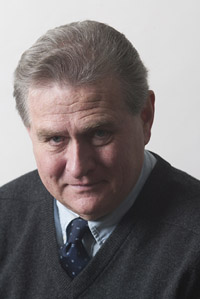 Student-run theater group the Robinson Players presents staged readings of a Bates professor's adaptation of the Nutcracker story at 7:30 p.m. Saturday, May 15, and 2 p.m. Sunday, May 16, in the Black Box Theater, Pettigrew Hall, 305 College St.
The readings are open to the public at no cost. For more information, please call 207-786-8294.
Martin Andrucki, Dana Professor of Theater, adapted his play Marie and the Nutcracker from The Nutcracker and the Mouse King, the short novel by 19th-century author E.T.A. Hoffmann. Michelle Schloss, a sophomore from Farmington, Conn., directs the production.
The basis for the popular ballet The Nutcracker, Hoffmann's story follows the young girl Marie and her Christmas adventures when her favorite toy nutcracker comes to life. "My adaptation moves away from the emphasis on dream and spectacle in the story and, especially, in the ballet," says Andrucki, "and it clarifies Marie's intentions.
"There's still a lot of playful fantasy, but I'm focused on characterization and dramatic development. It's a play about a young girl moving toward maturity through what she sees as a family crisis: the marriage of her older sister," he explains.
"She wants to prevent this and, with the reluctant help of her little brother, cooks up a scheme to sabotage the wedding. Her encounter with Nutcracker and the Mouse King helps her to realize the shabbiness of her plot, and points her in a new direction."
Andrucki calls the original Hoffman text "a wonderful piece of writing, with vivid characters, very weird psychological twists and turns, and a great sense of the power of the imagination." He hopes that his play will come to serve as a companion piece to holiday productions of A Christmas Carol.
Schloss was looking for a theatrical project for Short Term, Bates' five-week spring semester, when this directorial opportunity came along. "I couldn't pass up a chance to work with a new script by professor Andrucki," she says. And with the play scheduled for a full production in the fall by the Lincoln County Community Theater, "this is a chance for him to hear the script out loud and make final changes."
"The challenge in directing the staged reading has been stripping down the production," she notes. "In a text where characters can morph from toys to human-size heroes, enter the stage through a magical clock, and play the parts of both humans and royal mice, it's difficult to picture staging the story with just stools and music stands on a bare stage."
But with none of the technical demands of a full-scale production to deal with, the staged-reading format affords Schloss "the rare opportunity to focus on the best part of a play," she says — "the characters and relationships behind the spectacle, and the way they communicate with each other."
View Comments