$2.5 million gift helps inspire food-awareness initiative at Bates College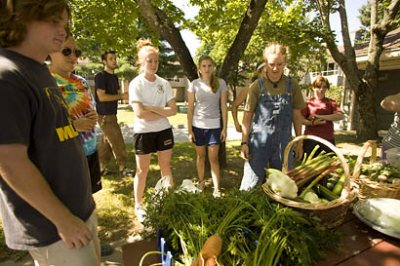 An unusual donation of $2.5 million to Bates College has increased the college's already high use of local, organic and natural food.
The gift coincided with the construction of a new energy-efficient [intlink id="1370″ type="post"]dining Commons[/intlink] that opened last February. Together they inspired a yearlong college focus this academic year on the complex issues connected with food and food systems.
The anonymous gift, although one of the most generous in Bates' history, would not be unusual in college philanthropy if it were directed toward supporting a faculty chair or naming a building. But the purpose of this gift is unique in its focus on developing and expanding healthy, local food purchases by the college.
"I am so glad that we have a donor with this vision," said Bates President Elaine Tuttle Hansen. "People often give to support faculty and curriculum and programs, and that's necessary and wonderful. But here is a gift that actually supports operations and recognizes that there is a financial cost to doing the right thing, from both a nutritional and an ethical perspective. Our donor says to us, 'I understand and I want to help. I want to make feasible what I believe is important for the present and the future.'"
A yearlong exploration of food and the many issues connected to food is called "Nourishing Body and Mind: Bates Contemplates Food."
The anonymous alumni donor stipulated that investment earnings on the $2.5 million endowment be devoted to meeting the additional cost of serving more local, natural and organic food at Bates. For Bates, which has documented environmental sustainability programs back to 1986, that figure was already high. About 22 percent of the annual food budget had been spent in recent years on local, natural and organic food.
The gift has allowed the College to increase that number to 28 percent in the past fiscal year. For context, the national student initiative "Real Food Challenge" has as its target to redirect 20 percent of all food purchased by colleges and universities (currently $4 billion) toward "real food" by 2020.
In remarks prepared for delivery at Convocation on Wednesday, Sept. 3, Bates President Elaine Tuttle Hansen said: "In their own characteristically ambitious yet modest way, so many Bates faculty, students, staff members and alumni are clearly part of a quiet movement — national and international — that is tackling the problems of our food system. By contemplating food, we want to celebrate and share even more widely many powerful stories about Bates and food."
Besides celebrating and making visible what already occurs at Bates, the initiative has a second objective, Hansen explained.
"We want to add to the understanding and knowledge about food on campus — where our food comes from, the food system at Bates, the larger food system in which Bates is embedded. So we don't want to forget in celebrating how we all eat, that there are growing social problems associated with the food system. We want to raise consciousness. We want to educate ourselves. We want to dispel our own ignorance and complacency by considering these issues. We want to explore why, for Bates, a strong and healthy food culture is so important to the educational mission."
Bates' focus on food has included a summer reading assignment for this fall's incoming first-year students and plans for a variety of panels and presentations throughout the academic year.
Bates' exploration of food took root last spring when President Hansen gathered a small number of students, faculty and staff who share an interest in food and eating to consider the concept.
The group, she said, was "overwhelmed by how much was already going on at Bates. We felt we should develop a kind of clearinghouse, making it all more visible. With food as the thread that connects us, to each other and to our larger community, we will spend the next year celebrating and contemplating more deeply the ways that gathering together around food enhances and supports the college's mission," she said.
Bates is recognized as a leader in college environmental sustainability. In July, [intlink id="5689″ type="post"]Bates was notified it received a top score[/intlink], along with 10 other U.S. colleges and universities, in a "Green Rating" system developed by test preparation organization Princeton Review and ecoAmerica, a nonprofit environmental marketing agency. In August, Kaplan Inc. also notified Bates that it was on its list of "Top 25 Environmentally Responsible Colleges."
View Comments