Lauren Yanofsky '10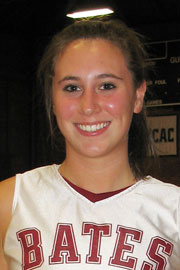 Lauren Yanofsky submitted her finest game of her Bates career in Saturday's win over Norwich University in the Williams Winter Classic, chalking up season-high totals of 18 points and 12 rebounds for her second career double-double. She followed that with a 14-point, 8-rebound, 4-steal effort in the tournament championship game against Williams.
In Bates' past six games, the 6-foot-0 Yanofsky (Belmont, Mass.) has served as an excellent complement to all-conference senior forward Val Beckwith (Woburn, Mass.) — in that span she has scored in double figures five times, averaging 13.2 points, 7.0 rebounds, 2.2 steals and 1.3 blocked shots while shooting .530 from the floor.
As Bates enters the heaviest part of its schedule, with 8 games in the next two weeks, the Bobcats will look for continued inspired play from Yanofsky.
View Comments