Bates debaters rank 16th in world tourney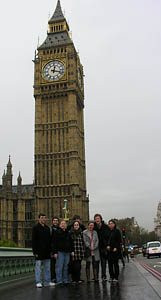 The Brooks Quimby Debate Council recently sent six debaters to the prestigious Cambridge University Cleary Gottlieb Intervarsity Tournament, hosted by Cambridge Union Society.
The Bates team composed of Geoff Shaughnessy '09 of Hanover, N.H., and Ariela Silberstein '10 of New York City, advanced to the tournament's quarterfinals. Ranked 16th in the tournament overall, the pair scored second among approximately 10 American teams entered. One of the other U.S. teams, MIT, won the tournament, in which 85 international teams competed.
Schools Shaughnessy and Silberstein faced included Oxford, the School of Oriental and African Studies of the University of London, Newcastle, University College Dublin, Trinity College Dublin and the London School of Economics.
Also competing for Bates were the teams of Jared Levy '09 of Ardmore, Pa., and Matthew Marienthal '10 of Chicago, Ill., who ranked 25th at the tournament; and David Kelly '09 of Bangor and Rachel Kurzius '10 of Ridgewood, N.J., who ranked 27th. Bates debate coach Jan Hovden and adjudicators Alicia Orkisz '10 of Bridgewater, Conn., and Walter Garcia '11 of Stonington accompanied the three Bates teams.
Marienthal and Shaughnessy tied to receive the tournament's 40th individual speaker award, while Silberstein received the 54th.
"It was an honor to represent Bates abroad, and the Cambridge tournament provided us with an amazing opportunity to debate schools from not only the United Kingdom but around Europe and Asia as well," says Silberstein, communications director for the Quimby society.
Bates debated motions on a variety of topics, including fair trade equity, organ donation, asylum for illegal immigrants trafficked into first-world countries as sex workers, and the "Bush doctrine."
"The style of British Parliamentary debate has some marked differences from the American style, but Bates' tremendous successes abroad have proven time and time again the unique versatility of our debating program," Silberstein says. "The Brooks Quimby Debate Council prepares its members to compete and win not only on home turf but also in environments quite far removed from our campus. Our program fosters a general appreciation for debate and argumentation."
Bates debaters have enjoyed a sucessful fall 2008 season. At Tufts University in November, Danny Bousquet '09 of Savannah, Ga., and Colin Etnire '12 of San Francisco broke to octofinals. At Harvard University in October, the novice pairs of Mircea Lupu '11 of Northville, Mich., and Andrew Wong '12 of Ipoh, Malaysia, broke to novice finals. Ally Mandra '12 of Brewster, N.Y., and Monica Rodriguez '12 of Stamford, Conn., broke to semifinals.
At the end of December, Bates sends Marienthal and Levy to Cork, Ireland, for the 2009 World Universities Debating Championships. Accompanied by coach Hovden and Kurzius and Silberstein as adjudicators, the Bates team will compete against more than 1,000 participants representing 176 of the world's finest educational institutions from 41 countries.
View Comments