Bates professor's play based on Mainer's WW II experiences opens in Damariscotta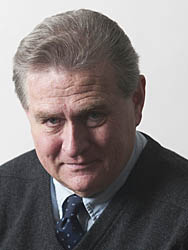 Manny's War, a play written by a Bates College theater professor about a Jewish American soldier taken prisoner by the Germans during World War II, opens in a Lincoln County Community Theater production at 7:30 p.m. Friday, Jan. 16, at the Lincoln Theatre, 2 Theater St., Damariscotta.
Playwright Martin Andrucki, Dana Professor of Theater, based Manny's War on the actual experiences of the late Murray Schwartz of Mechanic Falls, Maine. The play debuted at Bates in 2000.
LCCT performances take place at 7:30 p.m. Fridays and Saturdays, Jan. 16-17 and 23-24, and at 2 p.m. Sundays, Jan. 18 and 25. Tickets are $12, all general admission, and are available at the Maine Coast Book Shop, Damariscotta, and the theater box office. For more information or reservations, please call 207-563-3424 or visit the theater Web site.
Schwartz, who died in 2005, was captured by the Germans during the Battle of the Bulge, in December 1944, and his postwar inner conflicts and emotional turmoil form the dramatic basis of Manny's War. The play premiered in a highly publicized joint production by the Bates theater department and The Public Theatre, an Equity company in Lewiston.
Performed to full houses, the play was nominated for the American Theater Critics Association's New Play Award.
This moving and uplifting play takes place both in the present, in a psychologist's office at the Veterans Administration facility in Togus, Maine, and in Manny's memory — a place populated by scenes from an Army camp in Florida, a troopship in the mid-Atlantic, the Battle of the Bulge, a POW camp and Manny's own home. The lead character is haunted by guilt caused by an act of betrayal during his wartime captivity.
Ann Foskett directs the LCCT production. "Our season planning committee read the script and was quite moved by it," explains Barb Bowers, executive director of the theater company. "Since 'Manny' was a resident of Maine late in his life and the story is true, we felt it would be intriguing to this community, especially since Damariscotta is a retirement destination and we have many veterans here."
Andrucki, who has taught at Bates since 1974, has directed more than 30 productions in academic and professional theaters, and appeared as host on "Wide Angle," a WCBB-TV series about Maine film- and videomakers. He has taught modern drama and film studies at Harvard University, and performance technique to lawyers-in-training at the University of Maine School of Law.
<!–[if gte mso 9]> Normal 0 false false false EN-US X-NONE X-NONE MicrosoftInternetExplorer4 <![endif]–><!–[if gte mso 9]> <![endif]–>
View Comments