Chris Berry '09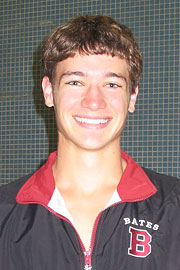 Co-captain Chris Berry (Augusta, Maine) had a big hand in an impressive first home meet for the Bates swimming and diving teams against Bowdoin on Saturday.
The Bates men finished the meet with another pool record performance in the 400 freestyle relay, as Berry and first-years Ned Scott (Maplewood, N.J.), Tom Boniface (Youngstown, Ohio) and Nathaniel Depew (Hudson, Ohio) touched the wall in 3:17.00. The previous mark of 3:17.86 had been established in 1993 by Wesleyan.
Berry and teammates also would have claimed the pool record in the 400 medley relay as well, although the Polar Bears touched the wall first to claim the mark for themselves with a 3:39.57 performance. Swimming in 3:40.05 for Bates were Berry, first-year Alex McKeown (South Windsor, Conn.), Scott and first-year Dan Aupi (Branford, Conn.). The previous mark of 3:39.57 was established by Bates alumni Eric Bowden, Adam Eggert, Nate Curll and Todd Bretl.
Berry also claimed first place in the 100-yard backstroke race, registering a time of 55.65 seconds.
Bates will next compete this Saturday in a dual meet at Colby.
View Comments