Mimi Neal '12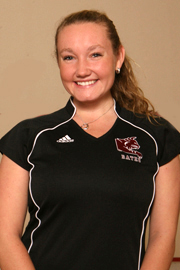 Since dropping her first two collegiate squash matches to highly ranked Cornell and Stanford, Bates first-year Mimi Neal (Danvers, Mass.) has won seven straight matches at the No. 6 position, including four last week during the Bobcat women's squash team's 3-1 week.
Neal, who also had a standout season on the Bates golf team in the fall, swept her opponents from Vassar, Wesleyan, Mount Holyoke and Franklin & Marshall last week, all by 3-0 scores. Dropping only three total points against Wesleyan and one against Mount Holyoke, her aggregate match score for the week was 108-3. She continued her run this week with a 3-0 win against Colby in which she again didn't allow a single point.
Neal and the No. 12 Bates women's squash team (4-5) play at No. 5 Yale on Saturday, then take on No. 25 Connecticut College on Sunday at Yale.
View Comments