Chris Wilson '10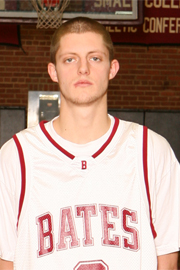 Bates junior Chris Wilson (Brewer, Maine) averaged 19.5 points, 4 rebounds and 4 assists per game in leading Bates to a 54-53 win over Trinity and a narrow 71-66 loss to nationally ranked Amherst. He shot 13-for-25 from the field (.520) on the week, including 6-of-8 (.750) from behind the three-point arc.
In the Amherst game, Wilson scored a career-high 24 points on 8-of-12 shooting, including 4-of-5 on threes, to go with 7 assists and 4 rebounds. He followed that up with 15 points and 4 rebounds in the crucial victory over Trinity. He was honored as Player of the Week for his efforts by the Maine Men's Basketball Coaches and Writers Association.
Wilson averages a team-high 12.0 points per game and leads the NESCAC in free throw shooting (.903) while ranking fourth in assists per game (4.45 apg). In conference games he is ranked 10th in the NESCAC in scoring (13.8 ppg), second in assists (4.38 apg) and 10th in three-point accuracy (.455).
Wilson and the Bobcats (12-10, 3-5 NESCAC) play their final non-conference game on Thursday night at Gordon College, then wrap up the regular season with a home date against Tufts on Saturday at 3 p.m., where they'll look to improve their chances for a spot in the eight-team field of the NESCAC Championships. Bates still has an outside chance of landing the fourth seed and a home playoff game.
View Comments