Marc Taggart '09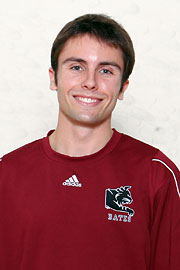 The Bates men's squash team capped an excellent season by going 2-1 at the College Squash Association Team Nationals last weekend at Princeton University, finishing 11th in the country with wins over Navy and Franklin & Marshall and a narrow 5-4 loss to Western Ontario, the top seed in the Hoehn Cup "B" Division in which the Bobcats were entered.
The key to the Bobcats' success was their depth, exhibited best when they won at positions 5 through 9 in defeating F&M for 11th place, meanwhile avenging a 5-4 loss to the same opponent earlier in the season.
No Bobcat was more effective at his position than senior Marc Taggart (Skippack, Pa.), who went 3-0 on the weekend at the No. 8 position by defeating Navy's Tommy McNamara in three games, Western Ontario's Rafik Bhaloo in three games and, in the final match of his career, outlasting F&M's Ben Lurio in five games.
For the season, Taggart compiled a 16-5 singles record, giving him a career mark of 50-30 over his four years as a Bobcat.
View Comments