Lavina Shankar discusses 'dogs and their humans'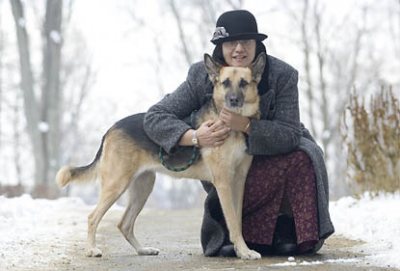 Lavina Shankar, professor of English at Bates College, delivers a talk titled "Dogs and Their Humans: Bonds and Boundaries," at noon, Thursday, March 19, in Callahan Hall of the Lewistion Public Library, 200 Lisbon St. Part of the Great Falls Forum series, cosponsored by Bates, the Lewiston Sun Journal and St. Mary's Regional Medical Center, the talk is open to the public free of charge.
Shankar was inspired by the loss of her beloved pet German shepherd to cancer three years ago to create a course using literature as a lens through which to examine the unique relationship between canines and humans.
Drawing on texts that range from fiction and poetry to psychology, philosophy, religion and environmental studies, Shankar explores issues such as animal rights, evolution, interspecies communication and the healing power of pets. "Teaching this class," she says, "has taught me important lessons about humanity, mortality and spirituality, and I'm looking forward to sharing my thoughts and experiences with the local community of dog lovers at the Great Falls Forum and though listening to others' stories of love, loss, and joy."
For more information, call the forum at 207-513-3135.
View Comments