Alumni bring distinctive views to food-system issues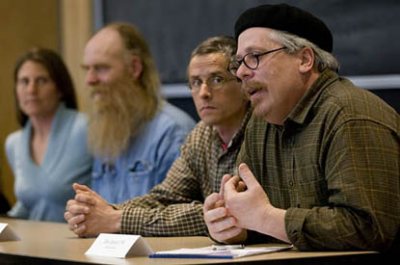 "I can see the world through food," said Kirsten Walter '00, perhaps speaking for all the participants in a wide-ranging Bates discussion of food-related topics on March 16. "I can see all these different issues," she said, "and how to approach them and how to engage people with them."
Walter, director of the St. Mary's Nutrition Center, was one of four Maine-based Bates alumni, each an expert in food issues, who took part in a panel discussion sponsored by the College's Nourishing Body and Mind: Bates Contemplates Food initiative.
Walter joined artisanal baker Jim Amaral '80, founder of Borealis Breads, and two farmers: Nicolas Lindholm '86, who owns Hackmatack Farm in Penobscot, and Steve Hoad '72, of Emma's Family Farm in Windsor.
The discussion traced the concept of "good food" — local, nutritious, delicious, natural or organic — across a roadmap of knotty questions. How do you make a living growing food? How sincere is the supermarket industry's commitment to local, healthy foods? How can food help empower, nourish and be affordable to low-income communities?
An audience of some 40 students, Bates staff and local farmers attended the event in Pettengill Hall. Anna Bartel, of the Harward Center for Community Partnerships at Bates, moderated.
To begin the 80-minute program, the Bates alumni shared how and why they embarked upon their current paths. Amaral, a sourdough breadmaker whose story of success is well-known, focused on one of his proudest accomplishments: the role he has played in re-establishing wheat production in Maine after an absence of about a century.
His early attempts to source wheat in Maine, Amaral said, were discouraging, as the grain was sometimes spoiled or contaminated. Those problems reflected what happens when "you lose a whole industry, you lose the whole network of relationships between farmers and millers and bakers, and the challenges of actually recreating that."
Lindholm had a good-food conversion experience as a Bates student, then held several jobs related to sustainable agriculture and now makes about half a year's living — with carpentry filling the gap — through selling his organic produce directly to consumers.
He plans to build a freezing plant, the state's first intended for a strictly organic growing operation, for wild blueberries — a fruit native to this region. "Working with a crop that's native to our land has a lot of meaning for me," he said.
Hoad and Lindholm expressed a common depth of idealism about farming. Coming to Bates, Hoad left development-wracked New Jersey for a relatively unspoiled Maine, bringing with him with visions of working his own land with his family.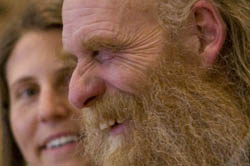 Hoad explained that his farm is deeded back to 1820 and the Hoads are only the fourth family to occupy it. The first owners had the place from 1820 until 1950. "You can feel those people in this land," he said.
Now he and his daughter Rose raise poultry, pigs and produce that they sell from the farm, with the goal of making the food affordable to all comers.
Walter, who has dedicated her career to food justice, picked up Hoad's theme of accessible food. She traced her interest in food justice to her youth in California, where her early concern about farming's impact on the environment gave way to the realization that she needed to consider "the people in that environment" — migrant farm workers.
Walter may be best-known at Bates and in Lewiston for founding Lots to Gardens, an organization that uses community gardens in Lewiston to empower young people and their neighborhoods. "I really wanted to see how we could use [the work of] connecting people to their food, connecting people to their landscape and each other, as a means of building a voice and power."
Walter described a food assessment, undertaken by the St. Mary's Nutrition Center and local colleges including Bates, that has revealed the difficulty of putting together a nutritious meal in downtown Lewiston. Of 67 stores that sell groceries, only seven sell all the basics for a well-rounded meal. And small downtown markets, she said, charge almost 50 percent more than the supermarkets, which are away from downtown, for the same basket of foods.
"Everybody deserves access to good food," Walter said. "It shouldn't be a privilege. It's a right."
Much of the conversation revolved around the supermarket industry and its efforts to meet the increasing demand for local and organic foods. As Amaral pointed out, the industry is willing to pay lip service to local food as long as consumers demand it, but at root, the current model — based on inexpensive commodities, large-scale processing and far-flung supply networks — is making money for them. If Maine was growing half or more of its own food, he said, "I'm not sure that the supermarkets could really prosper in that environment."
Farmers in the audience, meanwhile, pointed out that even as supermarkets turn more to local growers for produce, they are imposing requirements on small growers and processors that make it impossible to profit. Mandates, such as liability insurance or certain security and sanitation measures, that make all kinds of sense for industrial-scale producers make none at all for small, hands-on operations.
Steve Hoad offered a telling example. At his roadside stand, he sells sweet corn grown by a farm that also supplies a local branch of a major supermarket chain. His customers are always surprised to hear that, Hoad says, because the corn from his stand tastes so much better than the supermarket's.
The reason is simple. Corn loses flavor rapidly once it's picked. The corn that Hoad sells is no more than a day and a half old, if that. But the supermarket chain, fearing that one fine day the farm might fail to deliver on time, insists on keeping as much as a seven-day supply on hand.
The farmer can't convince the chain "that he'll continue to show up," even after 10 years of working together, Hoad said.
View Comments