Candido Bousquet '12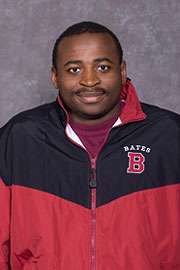 Bates first-year Candido Bousquet (Colombo, Sri Lanka) displayed terrific versatility Saturday at the NESCAC Men's Outdoor Track and Field Championships at Connecticut College, and was one of the Bobcats keys to nipping Tufts for second place at the meet by half a point.
Bousquet competed in four events on the day and scored a combined 13 points points for the Bobcats in three of them. He placed third in the long jump (22-01.75), third in the discus throw (139-06) and eighth in the shot put (42-00.50). Bousquet was also 13th in the hammer throw (130-04). Every point counted for the Bobcats, who scored 116.5 points, just ahead of Tufts (116) for their highest team finish since 2004.
Bousquet earned NESCAC All-Conference honors in both the long jump and the discus throw for placing among the top three, and was also a strong candidate to claim Most Outstanding Rookie Performer honors.
View Comments