Bates student composed, conducts choral mass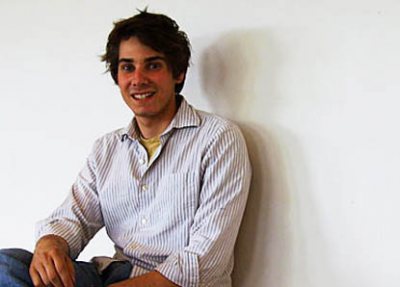 Jason Tsichlis, a composer and Bates College senior, premieres his Mass in D-flat Major on May 21. The concert is open to the public at no cost.
A setting for sacred texts from the Liber Usualis, a collection of commonly used Gregorian chants, the mass is written for an unaccompanied mixed choir. Tsichlis will conduct the performance, making the event a double debut for this student from Winchester, Mass.
An art and visual culture major, Tsichlis composed the four-movement mass as an independent study, working with John Corrie, director of the Bates College Choir and artistic director of the Maine Music Society. "I naturally chose to write a mass because of the form's important role in the history of Western choral music," Tsichlis says.
Stylistically, the piece reflects specific composers more than any broad genre such as Romanticism. "I draw on composers such as the Renaissance masters Palestrina and Lasso, and then Mozart, Schubert, Liszt, Chopin, Debussy and Biebl," he says. "Two specific pieces I found quite influential are Mozart's Requiem in D minor and Schubert's Mass in G major."
The 18 singers will include members of the college choir and of three Bates a cappella groups, the Merimanders, the Deansmen and the Manic Optimists.
Thursday, May 21, at 8:30 p.m.
Olin Arts Center Concert Hall, 75 Russell St. FMI: 207-786-6135 or olinarts@bates.edu
View Comments