Aiming to curb car use, Bates expands Bike Coop program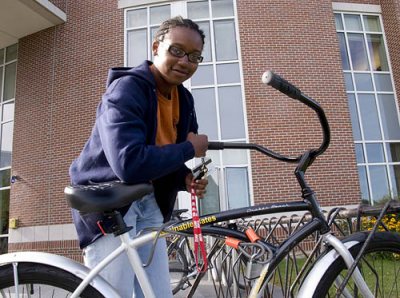 Among amenities awaiting Bates students as they arrived on campus this month was a bicycle built for two — just the thing for taking a spin downtown with a close friend.
Donated anonymously by a Bates alum, the tandem bike is part of the college's Bike Coop fleet. Launched in 2007, the program gives participating students an easy, healthy and environment-friendly way to get around.
The tandem bike and 14 new Marin cruiser bikes expand the coop fleet to 25. Julie Rosenbach, Bates environmental coordinator, increased the number of bikes to get more students pedaling, and eliminated a small fee for taking part, making the program free.
The program is now at full capacity, with 150 students signed up.
According to the 2001 National Household Travel Survey, 48 percent of all vehicular trips were three miles or less, and 24 percent were one mile or less — about five minutes by bike.
"The bicycle is the ultimate clean-air, zero-emissions vehicle," says Rosenbach. "Access to bikes will offer an alternative to that car culture."
The coop is part of the Sustainable Bates program, designed to encourage changes in individual habits. The idea, says Rosenbach, "is not just to ask people to live differently, but to also provide the tools for people to act with."
The Bates coop is a simpler version of the large-scale bike-sharing schemes in major cities like Paris and Montreal. Coop bikes are dispersed around campus, and participating students receive a key that will unlock any bike in the fleet. They can take a bike wherever and whenever they need to go, and just lock it up again when they return it.
Rosenbach has helmets for students who need one.
Her office was also instrumental in bringing the national Zipcar car-sharing program, with two Toyota Prius hybrids, to campus. "Students can leave their cars at home entirely," she says. "They can use our Zipcars for longer trips and in bad weather, and the coop bikes for around campus and town."
Bates' wide-ranging portfolio of sustainability initiatives has sparked a recent spate of national publicity, including mentions in the Sierra Club magazine, The Princeton Review and The Huffington Post.
This year, the college asked its 470 arriving first-year students to join together in researching and taking action on carbon emissions and climate change. They were given suggested summer reading that relates to climate change, and the annual orientation period included a presentation by Franke James, an artist known for her environmental activism.
In October, the first-years and other Bates students will take part in the International Day of Climate Action sponsored by the advocacy organization 350.org.
In recent years Bates has built new eco-friendly housing and a campus dining hall; contracted to virtually all its electricity from renewable Maine sources; and joined a national consortium of higher-educational institutions working toward carbon neutrality.
In addition, 28 percent of the food and beverages offered in the dining hall are locally grown or sustainably harvested, and the dining operation keeps an impressive 80 percent of its solid kitchen waste out of the local refuse stream through conservation and recycling.
View Comments