Stonyfield Farm chairman to speak at Bates screening of 'Food, Inc.'
A Bates College screening of the food-industry exposé Food, Inc. will be followed by a question-and-answer session with the director of Bates Dining Services and with Gary Hirshberg P'13, head of organic yogurt producer Stonyfield Farm.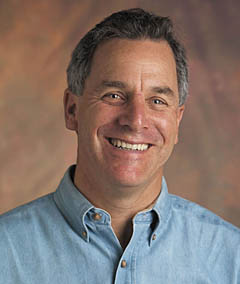 The screening begins at 7 p.m. Saturday, Oct. 3, in Olin Arts Concert Hall, 75 Russell St. The film is 90 minutes long.
Hirshberg appears in the film, which scrutinizes the food we eat and how it is produced. He'll be joined in the Bates event by college Dining Services Director Christine Schwartz. The event is open to the public at no cost. For more information, please call 207-786-6476.
Produced and directed by Robert Kenner, Food, Inc. aims to reveal the inside story of American food, the corporations that often place greater value on profit than consumer health, and the regulatory agencies, like the USDA and FDA, that oversee the industry.
Called "an essential, indelible documentary" by Rolling Stone critic Peter Travers, Food, Inc. features interviews with such respected experts as Eric Schlosser, author of Fast Food Nation, and Omnivore's Dilemma author Michael Pollan. Food-industry figures striving to change the status quo, like Polyface Farms' Joel Salatin and Stonyfield's Hirshberg, are featured describing their efforts to improve the quality of the food Americans consume.
Now chairman, president and "CE-Yo" of Stonyfield, Hirshberg came to the organization in 1983 as director of the Rural Education Center, the small organic farming school (with only seven cows) that spawned the yogurt operation. A renowned speaker on topics such as sustainability, organic agriculture and socially responsible business practices, Hirschberg is author of the 2008 book Stirring It Up: How to Make Money and Save the World (Hyperion).
The Londonderry, N.H.-based Stonyfield joined forces with Groupe Danone in 2001 to create Stonyfield Europe, of which Hirschberg was named managing director in 2005. Today, Stonyfield Farm makes an estimated $320 million in annual sales while always keeping its social and environmental missions square in its sights.
View Comments