'Chief operating optimist' for clothing company Life is good to speak at Bates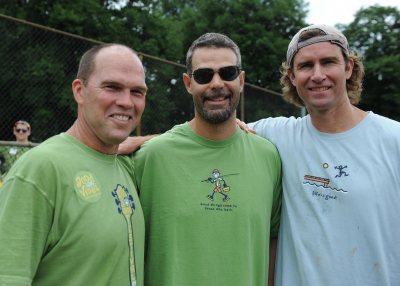 Roy Heffernan, "chief operating optimist" for the apparel company Life is good, known for its optimistic slogan and subtle humility, speaks at 7 p.m. Thursday, Oct. 29, in Bates College's Chase Hall Lounge, 56 Campus Ave.
Sponsored by the Bates Student Philanthropy Club, the event is open to the public at no cost. For more information, please call 207-786-6129.
Brothers Bert and John Jacobs began the company that would become Life is good in 1989, when they designed their first T-shirt. They started in Boston, selling their shirts college to college, dorm room to dorm room, but had little luck until they designed what is now known as the "Jake" shirt: a cartoon drawing of a face with a contagious grin, sunglasses and the words "Life is good."
In September 1994, the brothers presented their new Jake shirts at a street fair in Cambridge, Mass. The shirts were a hit. Since then the small company has grown to a much larger enterprise, with Jake the trademark figure. Today their merchandise is sold across country and the company has reached sales of more than $100 million a year, without a dollar spent on traditional advertising.
The company is known for its nonprofit organization, The Life is good Kids Foundation. The Foundation receives financial support principally through the company's donation of 100 percent of the profits from the sale of select products and public donations at Life is good Festivals held in major cities across the country.
The foundation supports extraordinary charities that create a lasting positive impact on children facing unfair challenges, including the traumas of violence, poverty and loss. So far, more than $4 million has been raised for this cause.
Roy Heffernan is "chief operating optimist" for Life is good, ensuring that the company delivers on its promises. His presentation is sure to offer solid lessons for entrepreneurs, philanthropists and optimists alike.
The Bates Student Philanthropy Club provides Bates students the opportunity to become acquainted with the philanthropic process, increasing philanthropic awareness on campus and strengthening the Bates community at large.
View Comments