Genocide's Heirs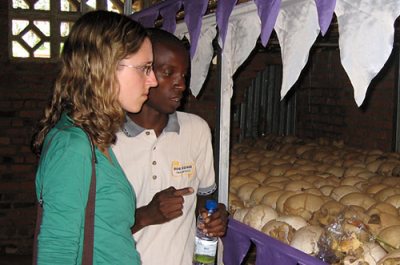 During the Short Term course "Learning with Orphans of the Genocide in Rwanda," each Bates student was paired with a French-speaking survivor. Below, Alexis Mutimukunda and Sara Bravmann '12 (in photo at right) talk about their experiences learning from one another.
Alexis Mutimukunda
I told Sara many facets of my life — my childhood, the genocide, my present situation, and what I wish for my future — and learned that she is sensitive and sociable.
Through our shared experiences, especially visiting memorial sites, a complicity grew around our willingness to fight genocide ideology and genocide deniers. At the Nyamata memorial is this sign: "Iyo uza kwimenya nanjye ukamenya ntuba waranyishe." This tells the genocide killers that if they had truly known their victims and themselves, they would not have killed because we are all the same inside. This message is also valuable for us all who are the heirs of this genocide.
She and I often commented on a nice book of proverbs in Kinyarwanda that Sara had with her. We realized that Rwandan and American cultures share many of the same values.
From Sara, I learned the value of time management, which will help me to be a good manager. I realized the importance of foreign languages and the need to force myself to study more English so that I will be able to better understand the people who do not share my culture and language.
She is really a great sister and a friend indeed.

Alexis Mutimukunda studies management and economics at Kigali Independent University.

Sara Bravmann '12
I was received as a sister by Alexis. And as I aspired to better understand the reconciliation process for him and other survivors, I ended up better understanding myself.
Alexis demonstrated courage in sharing his heart-wrenching testimony of losing his family. In his grief, I glimpsed thriving ambition to build a brighter future for himself and his country, helping to spread education to Rwanda's rural villages.
Alexis also taught me the value of companionship in times of loss. By opening his home to a handful of fellow Tutsi survivors whom he now calls his family in Tubeho, he will not have to face the trauma of the past nor the challenges that are surely ahead alone. And by opening his heart to a group of Bates students bursting with curiosity, Alexis now knows that he and his fellow survivors have not been forgotten by the outside world.
Enlightened by Alexis' wisdom, courage, and resonating faith in my ability to make a difference, I returned from Rwanda to share the stories of my brothers and sisters of Tubeho.
It is with my own newfound faith that I believe that the world will hear our collective voices and learn from the tragedies of the past in shaping a more peaceful future.
Sara Bravmann '12 of South Salem, N.Y., is now studying at Barnard College.
View Comments