Haley Johnson '06 wins historic spot on U.S. Olympic biathlon team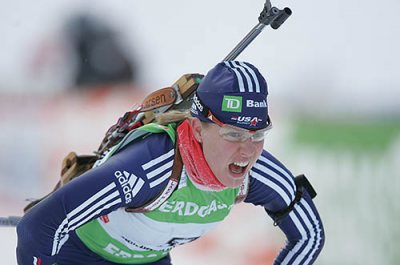 With her 21st-place finish at a World Cup race in Pokljuka, Slovenia, on Dec. 17, Haley Johnson '06 becomes the first woman to win a spot on the U.S. Olympic biathlon team, the U.S. Biathlon Team reported Thursday.
"We did know that she is able to finish in a good position but it was only during the last days that Haley really calmed down," said head coach Per Nilsson. "She was confident of herself and her ability on the shooting range and what she showed today seemed just like a normal and perfect training race. It's just amazing how she pulled that off."
"It was amazing but it was also super simple," Johnson said in a video statement afterwards.
The 2010 Olympics take place in Vancouver, British Columbia, Feb. 12-28.
Johnson, who studied at Bates for two and a half years before leaving to pursue biathlon training at the Maine Winter Sports Center in Caribou, was a two-time performer at the NCAA Skiing Championships. She placed 25th in the women's 5K classical race at the University of Alaska-Anchorage in 2002, and 17th in the women's 5K in 2003 at Dartmouth. In February 2003, she won the 10K freestyle event at the Williams College Carnival, the first Bates woman to win a carnival race.
"She has never gotten distracted along the way."
Johnson's success does not surprise her Bates coach, Becky Flynn Woods '89. "Haley is successful because it was always clear that she was pursuing a goal," Flynn said. "She has never gotten distracted along the way." Attending Bates was perhaps a slight detour, Woods says, since Johnson had to take a break from biathlon competition while at Bates. "I think it was nice for her to concentrate only on her skiing, but it did leave shooting behind. It's clear that biathlon was always part of her trajectory."
Johnson is the third Bates alum to win a spot on a Winter Olympics team. All-America Nordic skier Justin Freeman '98 competed at the 2006 games (Turin, Italy), and Nordic skier Nancy Ingersoll Fiddler '78 competed in 1988 (Calgary, Canada) and 1992 (Albertville, France).
In the Summer Olympics, rower Andrew Byrnes '05 was a gold medalist with the Canadian rowing team in 2008 in Beijing, China. Mike Ferry '97 competed for the U.S. in the double sculls at the 2000 Olympics, and runner Arnold Adams '33 was a member of the U.S. team at the 1932 Los Angeles Olympics but did not compete due to a foot injury.
Harlan Holden, a member of the Class of 1913 who attended Bates for two years, competed in the half mile at the 1912 Summer Games in Stockholm, while his Bates teammate Vaughn Blanchard '12 competed in the 110-meter hurdles at Stockholm.
View Comments