Museum exhibitor Babb to discuss approach to color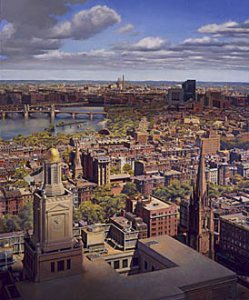 Maine artist Joel Babb, known for his wilderness paintings and panoramic cityscapes, speaks about the use of color at 7 p.m. Thursday, Feb. 25, in Room 104 of the Olin Arts Center at Bates College, 75 Russell St.
Titled Color Theory in Painting Practice, the lecture is open to the public at no cost and is sponsored by the Bates College Museum of Art. Babb's work is displayed at the museum through March 27 in an exhibition called Joel M. Babb: The Process Revealed.Museum hours are 10 a.m. until 5 p.m. Tuesday through Saturday. For more information, please call 207-786-6158.
Babb graduated with an art history degree from Princeton in 1969 and earned a master's degree from Boston's Museum of Fine Arts School and Tufts University. He also studied with artists George Segal and George Ortman.
Babb's body of work includes wilderness images and photorealist historical allegories. (His depiction of the first successful organ transplant is displayed in the Countway Library at Harvard Medical School.) But he is best-known for city panoramas that depict flattened, wide-angled views of Boston and Providence.
In the 1970s, Babb built a studio in Sumner, Maine, which became his permanent residence and inspiration for his large wooded landscapes.
Babb's work has been displayed at Vose Galleries and Gallery Naga in Boston; Sherry French Gallery, Gerold Wunderlich Gallery and the National Academy Museum in New York; and in Maine, the Center for Maine Contemporary Art, Portland Museum of Art and the Ogunquit Museum of American Art.
View Comments