Art critic Carl Little discusses Bernard Langlais' wood constructions
Renowned Maine art critic Carl Little discusses Bernard Langlais' abstract wood constructions, currently featured in a Bates College Museum of Art exhibition, in lecture at 7 p.m. Wednesday, Sept. 23, in the Olin Arts Center, 75 Russell St.
Little, winner of the 2000 Acadia Arts Achievement Award, has authored several books on art, such as Edward Hopper's New England (Pomegranate Communications, 1993) and The Watercolors of John Singer Sargent (University of California Press, 1999)
Little also writes for regional and national publications including Art New England and Art in America. He contributed an essay to the catalog for the exhibition Bernard Langlais: Independent Spirit at the Portland Museum of Art in 2002.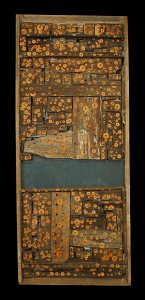 At Bates, Little will focus on Langlais' current exhibition in the context of his greater oeuvre. The exhibition Medium and Abstraction, curated by Erin Gilligan '09, focuses on a selection of Langlais sculptures from the 1950s and '60s that show a particular influence of the New York avant-garde. The inclusion of wooden assemblages by Louise Nevelson and portraits of Langlais imply a larger context of influence for his work, which Little will discuss.
Langlais, born in Old Town, Maine, in 1921, embarked on an art career at a young age. His early work is predominantly paintings and collages. In 1956, Langlais and his wife bought a summer cottage in Cushing, Maine. While completing renovations, Langlais began experimenting with wood, and developed his self-proclaimed "painting in wood" technique. He is most famous for whimsical animal sculptures and tableaus created with a fusion of painting and wood carving.
Also featured in the museum are the exhibitions Landscape Drawings from the Marsden Hartley Memorial Collection and Our Positive Bodies: Mapping Our Treatment, Sharing Our Choices. The Hartley exhibition showcases ink and graphite drawings by this famed artist born in Lewiston, Maine, who wished to have a memorial collection in his hometown.
Marsden is known as a pioneer of American modernist painting in the early 20th century. Our Positive Bodies originated in Nairobi, Kenya, and focuses on "body mapping," a palliative process through which life-sized silhouette self-portraits of women affected by AIDS are used to divulge feelings and memories.
The Langlais and Hartley exhibitions close on Oct. 3, while Our Positive Bodies remains up until Dec. 11. The museum is open from 10 a.m. to 5 p.m. Tuesday through Saturday and closed on major holidays. Admission is free.
For more information, please call 207-786-6158 or visit the museum Web site at www.bates.edu/museum.xml.
View Comments