Robert Hatch, icon of Bates athletics, passes away at age 85
• Click the thumbnails above to view the slide show
Professor Emeritus of Physical Education Robert W. Hatch, an icon of Bates athletics whose contributions  encompassed innovation and opportunity, died Feb. 13, 2010. He was 85.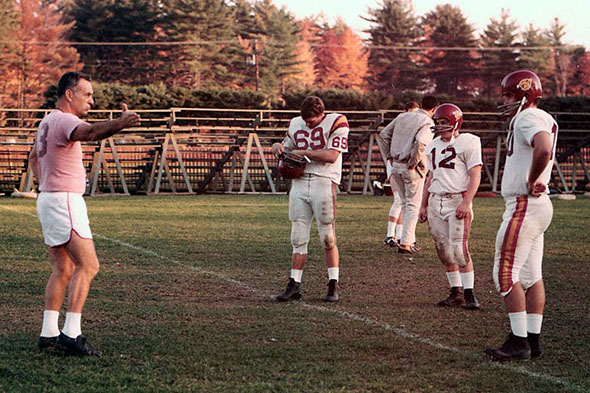 Appointed instructor in physical education and freshman football coach in 1949, Hatch's head coaching assignments included varsity baseball (1951-53) and football (1952-72) as well as golf. He became assistant director of athletics in 1959 and succeeded Lloyd Lux as director in 1974, serving until 1991.
Considered an innovator as a coach, Hatch once deployed an unusual spread formation in football versus the much larger University of Maine team in 1961, stunning the undefeated Black Bears with a 15-15 tie.
In 1955, he wrote a coaching article for Baseball Digest suggesting that traditional RBI statistics could be misleading and urging greater use of on-base percentage, twin notions that are central to the modern "sabermetric" approach to evaluating baseball talent developed by Bill James and others in the 1980s.
"There was no bravado. He thought of it as just the right thing to do."
As director of athletics, he oversaw the creation of a women's varsity athletic program in the 1970s. "At a time when few schools were doing anything, he created opportunities for women athletes," sad his immediate Bates successor, Suzanne Coffey, to the Sun Journal. "There was no bravado. He thought of it as just the right thing to do." Coffey is now AD at Amherst.
Kevin McHugh, Coffey's successor as director of athletics at Bates, says that Hatch's "right thing" ethos endures at Bates today. "The current Bates athletics program reflects Bob's idea of quality: good people who care about the institution and its student-athletes. Aside from wins and losses, there's a social conscience and education-centered philosophy here. To me, that came down from Bob."
View Comments