NEH grant supports preservation of Hartley materials at museum

The Bates College Museum of Art has received a $6,000 grant from the National Endowment for the Humanities to support the preservation of the college's Marsden Hartley Memorial Collection, an assortment of artworks, personal effects and other materials relating to the Maine native and pioneering American modernist painter.
The NEH Preservation Assistance Grant will enable the museum to obtain expert assessments of how best to preserve the collection, which came to the museum in the 1950s.
Hartley was born in Lewiston in 1877. About a century ago he joined a circle of artists, including Georgia O'Keeffe and John Marin, who were represented by the renowned photographer and art dealer Alfred Stieglitz. By bringing a distinctively American energy and outlook to cutting-edge European trends in art, they established an American modernist school that remains tremendously popular and influential.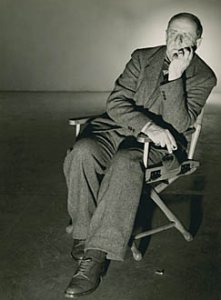 At Bates, the Hartley materials compose one of the museum's two founding collections, and they continue to inform its approach to acquiring and exhibiting artwork, and to educational programming. The grant, explains museum curator Bill Low, enables the museum to "get a simple, comprehensive assessment of the collection done. We can then use that as a springboard to other treatment grants and larger support."
Representing a Lewiston native and artist of international renown, the Hartley collection is a valuable Bates asset. "Like the other collections here, it's an important teaching tool," Low says. In addition, "it has really served as a foundation for the other collecting that we do."
Though living elsewhere for most of his life, Hartley often visited Maine in the summer and settled in the Down East village of Corea a few years before he died, in 1943. Though he spent little time in Lewiston as an adult, he "wrote and spoke very nostalgically about his hometown," says Low, "particularly later in his life when he really wanted to dedicate himself to becoming the painter of Maine.
"He wrote quite beautifully about his love for the Androscoggin River and the people here, and being a young man here."
In his lifetime, the artist expressed a desire that there be a memorial collection of some sort in Lewiston after his death. In 1951, the heirs of the Hartley estate gave Bates personal effects from Hartley's home in Corea, including drawings by other artists in the Stieglitz circle. In 1955, his niece, Norma Berger, made an additional gift that included 99 Hartley drawings.
"The Hartley drawings cover a wide range of subjects and constitute the largest collection his work in this medium," says Low. "They document his travels and some also serve as studies for some of his significant paintings.
"As a result this collection is frequently sought out by scholars as part of the research into Hartley's practice. The collection has been included in important exhibitions over the years."
Overall, Low explains, the collection is "quite broad." It includes textiles that Hartley collected, correspondence, poems and essays, jewelry, and a camera, as well as Hartley's personal library and a large holding of his writings, which reside in the Edmund S. Muskie Archives and Special Collections Library at Bates.
The grant is part of a special NEH initiative, the "We the People" program. It is designed to encourage and strengthen the teaching, study and understanding of American history and culture. "It's a valuable recognition of the significance of this project," Low says.
View Comments