Milton Lindholm '35, revered admissions dean with 'uncanny intuition,' passes away at 98
• Click the thumbnails below to view the slide show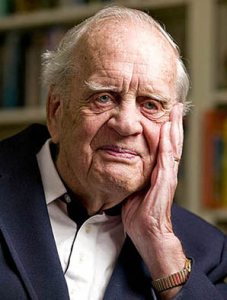 Dean Emeritus of Admissions Milton Lambert Lindholm, whose impeccable fairness, integrity and loyalty in 32 years as head of the Bates admissions program placed him in the hearts of thousands of Bates alumni, died Feb. 27, 2010, in Brunswick, Maine. He was 98 years old.
A 1935 graduate of Bates, Lindholm achieved a national reputation within the admissions profession for profound humanity. "Year after year he ran extremely selective admissions operations without alienating faculty, alumni, trustees or students," said Richard Steele, a Lindholm protege at Bates in the 1960s who went on to deanships at Carleton, Duke and Bowdoin. "Milt succeeded because he was always fair and was genuinely sympathetic to those who do not quite make the competition."
"He looked for academic promise in the students he recruited, but he sought much more."
In many ways, Lindholm both personified and helped to build the collective and distinctive personality of the Bates alumni community. "Institutions like Bates are measured, ultimately, by the character of their graduates. And Dean Lindholm was the chief architect of what a Bates student is," said the Rev. Peter Gomes '65 as he delivered the citation for Lindholm's honorary Doctor of Humane Letters degree at Commencement 2004.
"He looked for academic promise in the students he recruited, but he sought much more," added Gomes, the Plummer Professor of Christian Morals and Pusey Minister in The Memorial Church at Harvard University. "With uncanny intuition, he discovered imagination, motivation, determination and decency. He worked to build this College's national reputation, yet he never lost sight of the qualities that every Bates man or woman should possess."
Born on June 3, 1911, Lindholm grew up in Waltham, Mass.
At Bates, he was a religion major, played four years of football and basketball, was a member of the Christian Service Club and YMCA, and served as president of the Athletic Council, the Student Council and his class. A center on the football team, he played in the historic 0–0 tie game vs. Yale in 1932 at the Yale Bowl, the first time in the 60-year history of Yale football that the Elis did not win their opening game.
As a student, he is credited with inventing Mayoralty, the epic mid-20th century student tradition at Bates.
He and his wife, Jane Ault Lindholm, a 1937 Bates graduate, were married on Sept. 3, 1938, at her family's home in Wayne, Maine. They lived in Lewiston for many years before moving to Brunswick in January.
Lindholm received a master's in education from Bates in 1939, and he was the last alum to hold three Bates degrees (bachelor's, master's and honorary). Bates discontinued master's degrees in 1955.
He taught at Maine Central Institute in Pittsfield and, after selling books for the World Book Co., returned to Bates in December 1944 as director of admissions for men, initially charged with planning the post–World War II rebuilding of the student body.
Lindholm is credited with advocating for the returning veterans, convincing his colleagues of the veterans' resolve and purpose as students.
At a time when colleges were unsure how to assimilate older students, Lindholm is credited with advocating for the returning veterans, convincing his colleagues of the veterans' resolve and purpose as students.
By his 1976 retirement as dean of admissions, he was admitting the children of these alumni, yet the characteristics Lindholm sought for Bates never changed: "Motivation, imagination, initiative, strong personality and character," he once said.
One of Lindholm's early actions as dean was to bring Japanese American students to Bates by working with the National Japanese American Student Relocation Council, an organization that obtained security clearances and college placements for internees. Through that council, at least five such students, each a detainee during World War II, came to Bates.
Gomes recalled this deed at Commencement 2004 by saying how Lindholm "delighted in making connections with young people and maintaining that connection long after they had left Bates. He invested in each student as an individual, whether he was a Japanese American just released from a U.S. internment camp, the first in her family to attend college off a farm in Aroostook County, or the son of a Bates alumna he had admitted years before."
"I know of no one in his generation who has built such a catholic citadel of friends and admirers of all ages as he has."
Lindholm himself expressed this sentiment in his remarks to the graduates of 2004: "You have deep roots here that need to be nourished. So cherish the memories of the four years that you have been here. Rejoice in the friendships you have made. Come back as often as you can. Keep in touch. We will want to know where you are, what you are doing, as you continue on the road to success."
He and Jane lived this ethos, keeping touch with students on campus, entertaining them at the longtime Lindholm home on Nelke Place near campus and maintaining those friendships and connections after Bates.
At his retirement in 1976, the late Maine jurist Frank Coffin '40 said this: "I know of no one in his generation who has built such a catholic citadel of friends and admirers of all ages as he has."
Lindholm was famous for playing calculated hunches in his admissions work, and Bates alumni of the Lindholm era often say with great pride, "Milt took a chance on me," with profound appreciation for the opportunities they were given. He was an honorary member of the Bates classes of 1951, 1958, 1959 and 1962. In 2008 the Class of 1958 dedicated its retrospective 50th Reunion Book to Lindholm with these words: "We offer our stories to you."
In Bates alumni affairs, he served as class president, honorary national chair of Bates' second capital campaign and chair of Reunion committees. In 1981, he received the first Alumni Distinguished Service Award. Over the years Bates alumni established three endowed funds in honor of Milt and Jane Lindholm to support student scholarships, library book purchases and an award to the senior male and female varsity athletes achieving the highest grade-point averages.
In 1989, the newly renovated Bates admissions building on Campus Avenue was named for Lindholm. In September 2009, he and Jane attended a small gathering there to celebrate the anniversary. On his 90th birthday in 2001, the Maine Legislature congratulated him with a Legislative Sentiment. In 2008, Bates named the snack, sundries and sandwich shop in the New Commons Building as "Milt's Place."
In 2009, Lindholm was inducted in the Bates Scholar-Athlete Hall of Fame for his many contributions to the athletics program, including service as a track official. Once, when asked why he did not escape to Florida in the winter, he answered, "Who would pick second place in the 60-yard dash at the track meets?"
A longtime trustee of Kents Hill School and Maine Central Institute, he was a member of the latter's Hall of Fame as well as the Waltham (Mass.) High Hall of Fame. A longtime member of the Maine Chapter of the National Football Foundation and Hall of Fame, he received that group's Distinguished American Award, given to a former player who carried the lessons learned on the football field into a life of service to the community.
His local and state service included chairing the Lewiston School Committee, serving on the board of Central Maine Medical Center and an appointment by then-Maine Gov. John McKernan to the state Committee on Judicial Responsibility and Disability.
In addition to his wife, he is survived by his daughter, Martha Lindholm Lentz '64, of Topsham, Maine; his son, Karl L. Lindholm, of Middlebury, Vt.; and their families, including six grandchildren and three great-grandchildren.
View Comments