WRBC to present Icelandic folk group Seabear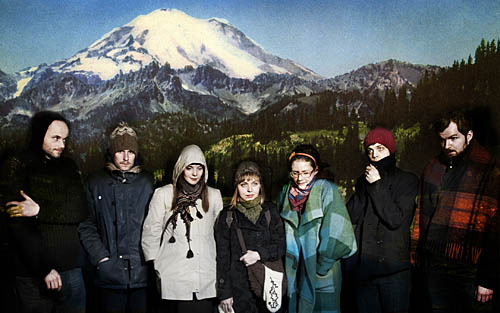 Seabear, a band based in Reykjavik, Iceland, performs indie folk at 9 p.m. Monday, March 29, in the Benjamin Mays Center, 95 Russell St.
The concert is open to the public and admission is free. For more information, please contact this dray@bates.edu. The concert is sponsored by the Bates College radio station, WRBC 91.5 FM.
Once the lo-fi solo project of Icelandic singer/multi-instrumentalist Sindri Mar Sigfusson, who was praised by Rolling Stone as the "Icelandic Beck," Seabear is embarking on its first-ever North American tour.
Since the founding of the group in the early 2000s, Seabear has morphed into a rambling experimental/indie/folk septet. Joining Sigfusson are Gudbjorg Hlin Gudmundsdottir, Ingibjorg Birgisdottir, Halldor Ragnarsson, Orn Ingi Agustsson, Kjartan Bragi Bjarnason and Soley Stefansdottir.
The band recently released its second full-length LP, We Built a Fire (Morr Music, 2010). For this record, all members of the band had equal input in the writing process, thereby creating Seabear's first real collective album.
While Sigfusson's unmistakable voice remains the centerpiece on We Built a Fire, the new joint approach is reflected in songs like "I'll Build You a Fire" where the whole band joins in on vocals. There is something instantly familiar about Seabear's songs that resonates with fans and critics alike. Despite scant promotion and airplay behind their debut album release, 2007's The Ghost That Carried Us Away (Morr Music), their songs and animated videos were a social media hit generating millions of plays on sites like YouTube and Vimeo. The band's songs have subsequently been featured in the soundtracks of several television programs including Grey's Anatomy and Gossip Girl.
For more information on Seabear, visit the Web site.
View Comments