Adele Myers and Dancers to perform and teach at Bates
Acclaimed contemporary dance company Adele Myers and Dancers perform at Bates College at 7:30 p.m. Saturday, May 1, in Schaeffer Theatre, 305 College St.
Admission is $6 general admission and $3 for senior citizens and non-Bates students. For more information, please visit www.batestickets.com or call 207-786-6161.
Myers and her troupe also offer a master class for intermediate and advanced modern dancers at 11 a.m. Sunday, May 2, in Plavin Studios, Merrill Gymnasium, 141 Russell St. For more information about this free event, please call 207-786-8294.
The company's residency is sponsored by the Bates dance program, with support from the Bates Learning Associates Program and the New England Foundation for the Arts.
The five-member Myers company combines robust athleticism, theatricality and social commentary in a style accessible to a wide audience. Myers' choreography has been performed nationwide at venues including Jacob's Pillow Inside/Out, Tanglewood Music Center, Velocity Dance Center and DanceNowNYC, and in Maine at the Bates Dance Festival and Stonington Opera House.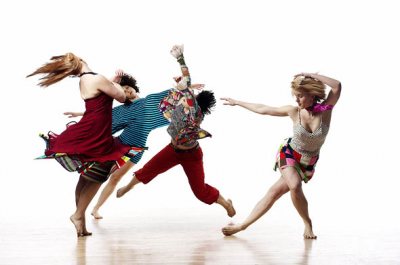 The company wins praise for its way of connecting with audiences and conjuring up a world onstage. "Myers' work bursts with the high-voltage kinetics, wit, quirks and most of all clear talent that characterize her mind, a place I always enjoy visiting," says choreographer Nancy Smith Fichter of Florida State University.
Myers' work has explored such engaging themes as personal interactions in an increasingly technological world and the "underbelly" of modern motherhood. Currently the troupe is completing a piece that explores drama and fame titled "Theatre in the Head" — a work described by Bates Dance Festival director Laura Faure as a "deeply investigative and playful journey."
Company artistic director Myers is also a professor of dance at Connecticut College. Prior to founding her company in 2000 she performed as a dancer in New York City with Joy Kellman/Co. and as a guest artist with companies including Momix. She also worked as a choreographic assistant, including choreographing a record release event for Aerosmith.
Other members of the company are assistant artistic director Diana Deaver, Tara Burns, Kellie Ann Lynch, Philip Montana and Rebecca Woods.
View Comments