Bates College Modern Dance Company presents annual showcase of student work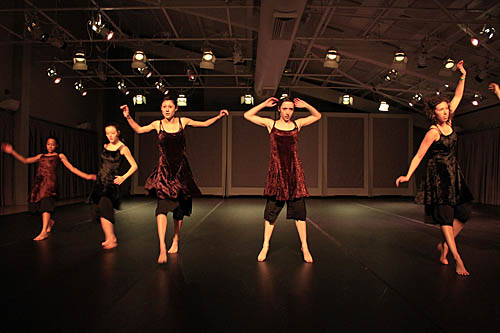 In two different programs presented over four performances, the Bates College Modern Dance Company offers its annual spring concert of new student works at 7:30 p.m. Friday, April 2, and Monday, April 5; 5 p.m. Saturday, April 3; and 2 p.m. Sunday, April 4, all in Schaeffer Theatre, 305 College St.
Admission is $6 for the general public and $3 for seniors and members of organized groups. For more information, please contact 207-786-6135 or this olinarts@bates.edu, or visit www.batestickets.com.
Thirty-five student dancers and choreographers present 11 dances, divided between two programs. Program A takes place April 2 (as part of a showcase of student works in the annual Mount David Summit), and April 4; Program B will be performed on April 3 and April 5.
The show features projects from students in courses on dance composition, computer music and costume design, as well as contributions from student lighting designers.
In addition, five other students are contributing works created as independent studies.
Four are seniors: Marlena Weinberg of Tampa, Fla., will showcase her research on the creative process of choreographing dance as a visual art form. Harita Daraneeswaran of Edison, N.J., and Nicole Kahn of Bellevue, Wash., combine the rhythmic patterns of American tap and "bharatanatyam," one of India's oldest classical dance forms. Gina Petracca of Irvine, Calif., will present a piece about the complexities of relationships in times of transition.
Sophomore Victoria Lowe of New York City will showcase a duet she first created for a psychology course last year and has now revisited as a dance piece for a concert setting.
View Comments