College Choir to perform Mozart's final choral masterpiece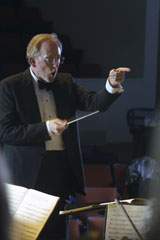 Wolfgang Amadeus Mozart's Requiem and other works will be performed by the Bates College Choir, directed by John Corrie, at 8 p.m. Friday, April 2, and Saturday, April 3, in the Olin Arts Center Concert Hall at Bates College, 75 Russell St.
Admission is free, but tickets are required. For more information, please contact 207-786-6135 or this olinarts@bates.edu.
Mozart was working his Requiem on his deathbed in 1791, leaving it for protégés to complete. A masterpiece of the choral repertoire, the work is "an unlikely but unforgettable alloy of ecclesiastical grandeur, Baroque fugue and the subtlest mood painting," wrote a Portland Phoenix reviewer in 2001.
"Known for operatic music that can convey scene or character with a handful of notes, Mozart used that skill here to portray a believer facing death: feeling dread at the end of this life, anxiety at the prospect of judgment, abject yearning for forgiveness."
The choir will be accompanied by an orchestra consisting of students and community members.
View Comments