Brooks Quimby lengthens list of successes in British-style debate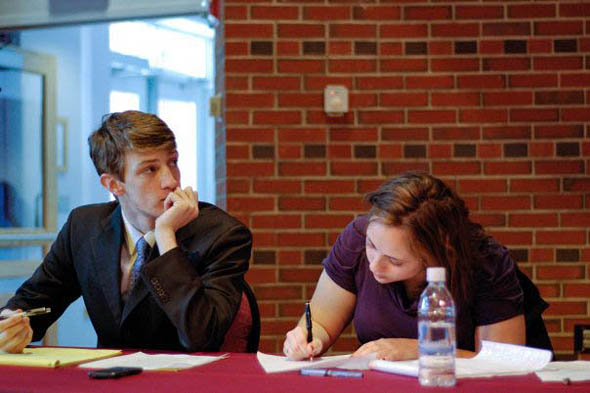 The Brooks Quimby Debate Council is getting more and more comfortable outside its comfort zone.
An established force in the American Parliamentary debate format, Quimby deepened its inroads into the contrasting world of British Parliamentary style during the weekend of April 10. The team of Colin Etnire '12 of San Francisco and Ariela Silberstein '10 of New York City made the semifinals at the United States Universities Debate Championship, the nation's ultimate British-style contest.
In its USU Championship debut, in Colorado, the Quimby twosome was among teams from the University of Vermont and the University of Alaska that got as far as the semifinals. A Claremont Colleges team beat out finalists from Stanford, Yale and Portland State to win the tournament.
Co-hosted by Regis University and the University of Denver, the tourney took place at the latter campus and drew 124 teams.
For Silberstein, a high point in the action was winning a quarterfinal round in opposing the resolution "This House would replace citizen juries with professional juries."
"We were able to defeat a team from the University of Alaska that was one of the top-ranked teams at the tournament," she said, "in front of a judging panel that included a former World Champion.
"And it was quite significant for us that in the last preliminary round of competition, we were in the top-ranked room of the entire tournament."
The British style emphasizes rhetorical style and an extended line of argument, while the American is more legalistic, emphasizing line-by-line breakdowns of an argument.
The American Parliamentary Debate Association circuit is Bates' usual stomping ground. While Brooks Quimby has a long track record with British Parliamentary events — including longstanding participation in tournaments at Cambridge and Oxford, U.K., and at the World Universities Debating Championship, which took place in Turkey over New Year's — the squad's British-style competition on this side of the Atlantic has been less common.
But that's changing. A British Parliamentary circuit independent of the APDA is growing in the United States, and this is the first year Bates has competed on that circuit.
"It's a sign of the strength of our program that we were able to go so far at a tournament held in a style that hasn't traditionally been our focus," Silberstein said of the Colorado event. "However, we're fast learning how both educational and dynamic British style is, and I think we'll continue to expand our emphasis on it — and our competitive success."
The weekend meet extended Etnire's personal string of successes in the British realm, as he and classmate Ian Mahmud topped 73 other teams at the University of Vermont tournament last fall.