Gov. Baldacci addresses Maine's 'Creative Economy'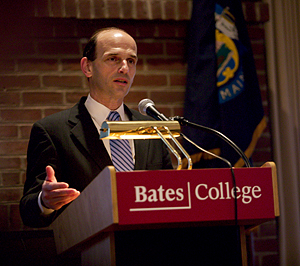 Maine Gov. John E. Baldacci drove from state budget battles that continued into the early morning Friday to a breakfast presentation at the Edmund S. Muskie Archives on The Creative Economy and Maine's Future.
Baldacci was introduced at the breakfast seminar by Bates President Elaine Tuttle Hansen to about 130 guests from the Lewiston-Auburn community. Baldacci reminded the group that he will be returning next month for a two-day conference on the same topic at the nearby Bates Mill Complex.
The term "creative economy" is a broad one, Baldacci said. "It captures everything that's magical about economic growth. The creative economy is what exists when we recognize that every individual in our community is an economic engine. Every individual has the potential to be an entrepreneur. Every individual has the right to fully explore his or her potential as a productive member of a vibrant community."
He said that the state's role in the creative economy is removing impediments to growth, investing in communities, investing in laptops and education and training for youth and workers.
The roots of the creative economy are in the arts community, Baldacci said. "The Maine Arts Commission has helped me develop next month's conference, with a core conviction that jobs in the arts and investments in the arts are good for everyone – the arts float everyone's boat. Not only do people work for L-A Arts or the Bates Dance Festival – actors, producers, dancers – but also people move to Lewiston-Auburn because they want to live in a community with theaters and festivals and music."
Baldacci noted that one of the panels in the May conference on the creative economy will be on cultural tourism. He said people are drawn to Maine by its many craftsmen and for visits to Maine's historic sites, villages and museums, such as Lewiston's Franco-American Heritage Center and the majestic architecture of its Saints Peter and Paul Church.
Baldacci said that the rejuvenation of the Lewiston-Auburn community "is showing the way, frankly, to the entire Maine economy." He said that when a community develops the arts, it creates a synergy that builds on itself. "Architects are attracted to communities that have a creative base. They help renovate downtown buildings, they help fill up downtown restaurants, the multiplier effect creates even more jobs. And entrepreneurs are attracted to that vibrancy – bringing jobs in software and small businesses and more.
"Recognizing the creative economy is recognizing that Maine is becoming a magnet, and we can grow by becoming a place that people want to live. We want our youth to live in Maine – we want to invest in arts and culture that will make them want to live here. Entrepreneurs move to Maine because of our lakes and our ocean – we want to invest in natural resources so that we will always be a magnet for those individuals who will become economic engines themselves. We are excited to be a magnet for immigration."
For more than 17 years, the president of Bates has sponsored a Breakfast Seminar that has brought leaders of Lewiston and Auburn together for presentations and discussion of local, national and global issues. As a theme for this academic year's seminars, Hansen selected "Paths to Economic Growth and Opportunity in Maine." Baldacci was the capstone speaker in this year's series.
View Comments